Estimated read time: 4-5 minutes
This archived news story is available only for your personal, non-commercial use. Information in the story may be outdated or superseded by additional information. Reading or replaying the story in its archived form does not constitute a republication of the story.
NEAR BAGHDAD, Iraq (AP) -- U.S. forces seized the Baghdad airport Friday, and thousands more Marines massed on the outskirts of the capital after overpowering small groups of Iraqi soldiers in the push north.
The Marines reported that about 2,500 Republican Guards surrendered between Kut and Baghdad, and one Marine unit had so many prisoners of war it had to improvise a prison camp to hold them. Troops following the main thrust passed burning vehicles, civilian and military, and hundreds of dead Iraqis, most in uniform.
#assult_on_airport
In capturing Saddam International Airport -- promptly renamed Baghdad International Airport -- U.S. tanks punched through a perimeter wall and rumbled past a towering portrait of Iraqi President Saddam Hussein. Soldiers conducted a building-by-building sweep for Iraqi defenders, and began searching the tunnels discovered below it, for any Iraqi fighters that might be hiding. And the airport entrance closest to Baghdad was sealed off.
The airport is a vital base for taking the war into its expected next phase, urban combat in the Iraqi capital.
"It is a gateway to the future of Iraq," said Brig. Gen. Vincent Brooks, U.S. Central Command spokesman.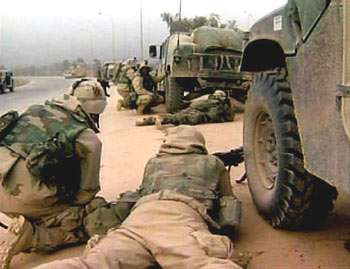 #assult_airport_onground
The capture of the airport, a mere 10 miles southwest of downtown Baghdad, prevents Iraq's leaders from fleeing by air and enables coalition forces to use it now or in the future, Brooks said. "Most important, we preserved it for the future of Iraq," he said.
The attack began at dusk Thursday, with units of the Army's 3rd Infantry Division moving in to seize the main, 13,000-foot runway. Gunshots were heard from inside the complex of military and civilian buildings.
With the Iraqis cleared out, the 101st Airborne Division started to move north, with plans to base its helicopters at the newly
#plane_runway
seized airport to conduct raids around Baghdad. The 101st is highly trained in urban warfare.
"We're fighting in urban terrain now, and to be effective in this terrain you need light infantry forces. This is their forte and they provide us additional capabilities," Col. John Peabody, engineer brigade commander for the 3rd Infantry.
Lt. Col. Scott Rutter, a battalion commander with the 3rd Infantry, said the capture of the airport could send a message to the people of Baghdad "that we're here and they can rise up and deal with the regime appropriately and save some future battle inside the city."
The Marine 1st Division was massed on the southeastern outskirts of Baghdad on Friday morning after hours of pushing up the Tigris River, past abandoned Iraqi positions, with little resistance.
Despite highs forecast in the 90s, the Marines pulled on stifling protection suits in case of chemical attack. Some sat alone, lost in their thoughts, while others wrote letters. Some caught a nap after the night's hard drive north.
Marines following the main thrust saw signs of heavy fighting as they pushed toward Baghdad. About 40 miles south of the city, soldiers with the 3rd Battalion, 4th Marines passed burning military barracks and twisted pieces of metal on the road. Spent ammunition was scattered on the asphalt.
In front of one military barracks, a large metal sculpture of Saddam had been hit repeatedly by U.S. forces, and the head was blown off.
Members of the 3rd Infantry continued their sweep through the outskirts of Baghdad amid palm groves, rice paddies, cornfields and irrigation canals, and came across what appeared to be a Republican Guard unit.
A firefight broke out over a vegetable patch, lasting only about 30 seconds and consisting of only two or three cannon shots.
Two Republican Guards in uniform were wounded. Two Republican Guards who had put on civilian clothes were also taken prisoner. One, speaking through an interpreter said: "We got bombed last night, and most of our tanks were destroyed."
On the way to the airport, U.S. troops had to run a gantlet -- a single-lane road with Iraqi fighters firing from all sides. For four hours in punishing heat, tanks and Bradley armored vehicles tried to pick out soldiers and fighters amid civilians standing next to houses, watching the armored column pass.
Staff Sgt. Bryce Ivings of Sarasota, Fla., spotted a fighter and said: "He's got a weapon. Oh ... there's civilians in the way, he's using these people as shields."
He did not fire.
During the push north Thursday, Marines fought in close-quarters combat in Kut, at one point mowing down a group of Iraqis who mounted a suicide charge against a tank with their AK-47s. The Marines estimated 80 Iraqis died in the fighting at Kut.
The military said two Marines were killed and one wounded in the fighting in Kut. Another Marine was killed near Kut when his automatic weapon went off while he was sleeping, firing one round into his chest.
At least one U.S. soldier was killed by friendly fire. He was outside his vehicle when U.S. forces blasted an Iraqi tank nearby. Three were wounded by Iraqi fire, and three soldiers collapsed from heat exhaustion as the temperature rose to about 90 degrees outdoors and over 100 degrees inside the tanks and Bradleys.
One U.S. soldier was shot in the leg as he stepped from his refueling vehicle along the route. He was pulled to safety by comrades who jumped out of a Bradley.
(Copyright 2003 by The Associated Press. All Rights Reserved.)
×
Most recent News stories