Estimated read time: 2-3 minutes
This archived news story is available only for your personal, non-commercial use. Information in the story may be outdated or superseded by additional information. Reading or replaying the story in its archived form does not constitute a republication of the story.
Ashley Hayes Reporting Last spring Bountiful city leaders and police introduced a new traffic program called "Slow Down Bountiful."
The campaign is meant to educate drivers and in the process make streets safer for residents. Almost a year after its introduction, we found Slow Down Bountiful is effective, but exercises need to be reimplemented from time to time to keep drivers on their toes.
This spring the campaign is redirecting its focus and building on last year's practices.
Last May Angie Smith and neighbor Milt Barns stood on the sidewalk outside their Bountiful homes with a radar gun raised at the cars speeding by.
At that time Barns said, "Over the years, we've had three children hit by speeding cars."
Councilman Tom Tolman lent residents the gun to spot speeders and record their license plate numbers. Then, reminders rather than citations were mailed to the speeders, asking them to slow down. In four days Smith and Barns wrote down 120 license plate numbers.
It worked for a while, but nearly one year later Smith says drivers are back to their old habits. So she plans on doing it again.
"It really helped and really educated the drivers on our street to the speed limit," she said.
Downtown, Tolman said, "Like this guy coming down here right now. He was going 40 miles an hour, just not paying attention. It's 25 on Main Street."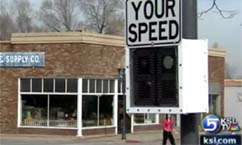 This spring Tolman is changing the focus of his slow-down campaign to emphasize crosswalks. He says since the city put in a sign, they've found the majority of drivers -- 80 percent of them -- are speeding their way through downtown Bountiful.
"As you're shopping on Main Street, it's difficult to even get into a crosswalk. You're taking your life into your own hands," Tolman said.
He wasn't kidding. When I crossed the street, it took not one, but several attempts to make it across.
Last year Joan Marchant was killed in a Bountiful crosswalk on Orchard Drive. Since January, Tolman says drivers have crashed into eight pedestrians and bicyclists, which is why come May, drivers can expect to see more radar guns, more signs, and more officers patrolling in Bountiful.
Slow Down Bountiful week runs May 1 - 7.
×
Most recent Utah stories