Estimated read time: 2-3 minutes
This archived news story is available only for your personal, non-commercial use. Information in the story may be outdated or superseded by additional information. Reading or replaying the story in its archived form does not constitute a republication of the story.
Tonya Papanikolas ReportingHundreds of veterans are buried in the Salt Lake cemetery. But some family members say when they go to pay their respects, what they see is hard to believe.
What they're seeing are run-down grave sites. The veterans' headstones are all different heights, if they stand straight at all. Some have tire tracks on the back or scratches on the front.
Family members and current soldiers contacted Eyewitness News saying it's unacceptable and embarrassing.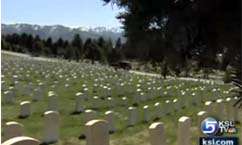 At a wide glance, the veterans' section of the Salt Lake cemetery in the Avenues looks like any other, until you step closer and start noticing individual graves.
"There are some that are broken off. There's one that's just totally gone," said Marty Pratt.
One headstone is just a chip of stone. Others look small because they're sinking.
"They're buried on what was originally the cemetery dump," explains Pratt. "Everything below is garbage, so the graves sink, the headstone sinks."
The headstone of Marty Pratt's uncle is a lot shorter than it used to be.
"It was probably a good two feet higher than it sits now," he said, "and the one next to it is even worse."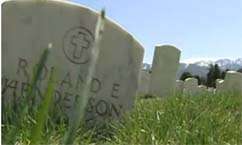 Some headstones don't even show the names of the dead any more. On many others, you can't read which war the person fought in or when they died.
"It makes me sick," Pratt said. "These men fought for our rights."
Jason Ahlman of the U.S. Air Force said, "It was pretty shocking. I've seen other cemeteries with the veterans' sections, and I've never seen anything like this."
Some headstones lean to the left or the right. Others are tilted so far back, it looks like they are going to fall over. One is being held up by a piece of wood.
Lawn mowers and machinery have chipped and scratched many gravestones. The flat brass markers have their own problems. Many aren't even hooked to the ground.
These two men say what's supposed to be an honor has instead turned into a disgrace. They'd like to see it fixed.
"I think we need to do something to honor these men and women who have fallen for our rights," Pratt said.
Ahlman added, "The people of Salt Lake City and the state of Utah are very patriotic. I think if the majority knew what this city cemetery looked like in this veterans' section, I think they would be very upset."
There are two rows of markers that were cemented to the ground years ago. That is what family members would like to see.
Keep in mind, family members don't pay for veterans' graves; the government does.
Marty Pratt says he's talked to numerous agencies, and no one will do anything about it. He told us he's contacted the city, the cemetery and veterans organizations, and everyone passes the buck.
×
Most recent Utah stories