Estimated read time: 1-2 minutes
This archived news story is available only for your personal, non-commercial use. Information in the story may be outdated or superseded by additional information. Reading or replaying the story in its archived form does not constitute a republication of the story.
Courtney Orton of KCSG ReportingA man is attacked in his home in Washington County. He pulls out a gun in self-defense and kills a man.
Fire and paramedic crews responded to a possible fire last evening in Hurricane. But upon arrival, they found one man dead and another brutally beaten.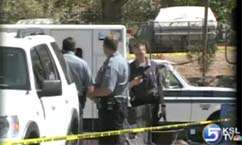 Neighbor Brandon Jackson said, "I heard two pops, really. Didn't think anything of it because you don't usually think something like that would happen. Shortly after that we heard a car peel out. Went outside a few minutes later, and there were cops everywhere."
Just minutes earlier the man living inside apartment C opened the door to find two Hispanic men.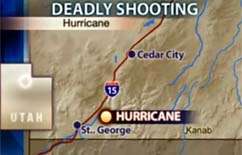 Brandon Buell of the Hurricane Police Department said, "Two males entered the home and attacked the resident with a metal pipe. It's alleged the subject in the residence, in an attempt to defend himself, fatally wounded one of the attackers."
Witnesses say the woman that lives directly next door was making dinner when a bullet came flying through her wall.
Police are calling this fatal shooting a mode of self defense, but the mood in this small Hurricane neighborhood has taken a dramatic change.
"I have a nine-month-old," Jackson said. "Kind of crazy for something like that to happen next door."
Police are looking for the third man involved and are calling him a person of interest. They hope he can shed more light on the investigation.
×
Most recent Utah stories