Estimated read time: 2-3 minutes
This archived news story is available only for your personal, non-commercial use. Information in the story may be outdated or superseded by additional information. Reading or replaying the story in its archived form does not constitute a republication of the story.
Alex Cabrero ReportingThere's a big problem happening to driveways throughout one Utah town, and residents aren't getting any answers.
Stansbury Park in Tooele County is one of the fastest-growing areas in the state. Homes are popping up all the time, but for some reason a lot of the new driveways are already falling apart.
We're talking maybe at least 100 homes with the same driveway cement problems. There are two things in common, they're all flaking apart in the same way, and all of them are Richmond American homes.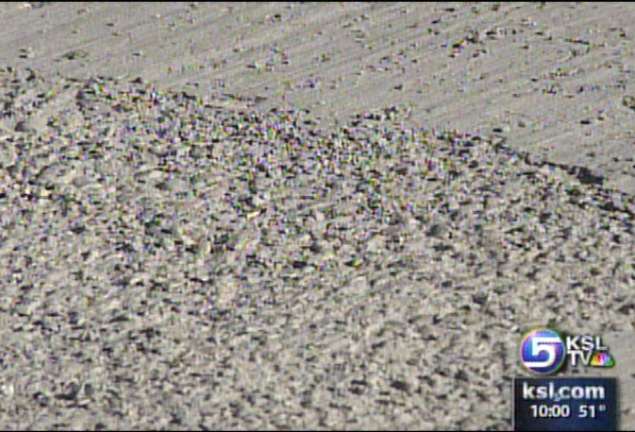 The landscaping is nice, the views are nice and the neighborhood is safe, but the driveways in Stansbury Park are problematic. It leaves you wondering what's wrong?
John Bishop, a resident of Stansbury Park, said, "They said it was our fault because we had salt on our tires when we drove up the driveway."
"They" is Richmond American Homes, a popular homebuilder throughout Utah. For some reason a lot of driveways in its Stansbury Park subdivisions are falling apart, in some cases after only a year.
Josh Moore, a resident there, thinks it's the cement Richmond bought, because the cement he bought and had poured next to his home last year is fine, but Richmond's cement is flaking apart.
"I've never seen a driveway do this," he said.
Neither has Joe Sudbury. "I feel this is poor craftsmanship and just cutting corners to make things cheaper for the homebuilders," he said.
We at KSL can understand the residents' frustrations with Richmond American Homes. We tried calling them to get an answer about these driveways but were told we needed to speak to a corporate spokesperson in Virginia. So, we called that person, left a message on voicemail and cell phone, but so far, we haven't received a phone call back.
"Sometimes I wonder if I should take a sign and put it on the grass and point this way and say Richmond driveways," Moore told us.
This driveway is the second driveway the Bishops say Richmond poured for them, but even still, it has problems.
Now, many neighbors feel there's just one thing left to do. Michelle Bishop says, "A bunch of neighbors are getting together. Maybe we can get a lawsuit or something. All we want is our driveways to look good and not fall apart."
Many of the sidewalks are fine. Tooele County is responsible for them and had them poured. It's what's on both sides of that sidewalk that the homebuilder had poured, and in many cases, it's falling apart.
×
Most recent Utah stories