Estimated read time: 1-2 minutes
This archived news story is available only for your personal, non-commercial use. Information in the story may be outdated or superseded by additional information. Reading or replaying the story in its archived form does not constitute a republication of the story.
Jed Boal ReportingWe've heard of Obama, Clinton, Romney, and McCain...but what about "President Larkin?"
Meet "President Larkin," as he's known to friends. Seventeen-year old Brigham Larkin loves his country and has high political ambitions. "I wanna be the President," Brigham Larkin said. He shares his love of old glory, America, and President Bush through song, the Star Spangled Banner to be exact. "I like it. I sing it everyday. It's my favorite song to sing," he added.
"If he's asked to choose a song, no matter what meeting he's in, he chooses the Star Spangled Banner," said Carole Garber, Brigham's mother. The Layton High junior student began memorizing the lyrics to the national anthem over two years ago, and today he's working to perfect the tune. "It's a difficult song to sing," she adds, "and he's getting the tune and the music and the lyrics down altogether."
Larkin practices the song every day in front of his bathroom mirror dressed in his suit. Memorizing such a complex song is quite an accomplishment. "Although he is developmentally delayed, he has been able to memorize this through repetition and practice and love of the song," Carole said.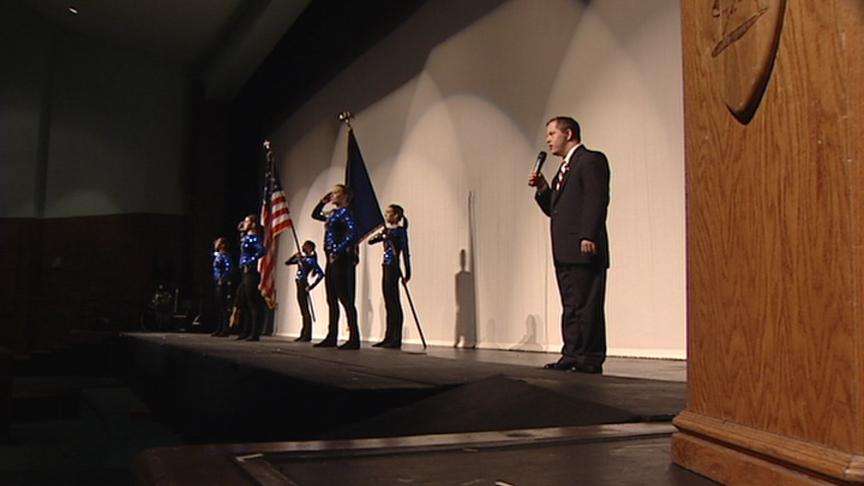 Larkin doesn't shy away from a crowd, either. "He's a showman and wants to stand up and sing it," his mother said. "President Larkin" performed the national anthem today for his Layton High Classmates.
Larkin may even have a future on the national stage. He sings at city council meetings, in shopping malls, and hopes to sing the national anthem at future sporting events.
×
Most recent Utah stories