Estimated read time: 2-3 minutes
This archived news story is available only for your personal, non-commercial use. Information in the story may be outdated or superseded by additional information. Reading or replaying the story in its archived form does not constitute a republication of the story.
SALT LAKE COUNTY -- Solo commuters eager to ride the Express Lanes on I-15 will soon be able to pay per ride. UDOT will start to install the electronic payment system next week.
What is ? Express Pass?

Express is an electronic payment system that UDOT will implement along the I-15 Express Lanes by fall 2010. This system will replace the current decal program that allows a monitored number of solo drivers to pay a $50/month fee to use the lanes.
Carpoolers, buses, selected C-plate vehicles and motorcycles will still use the I-15 Express Lanes free of charge. The pay-per-ride system is for solo drivers who want to hop in the HOV lanes and only pay when they use it.
Right now 1,600 single riders pay $50 a month to ride in the Express Lanes. In August, that decal plan ends, and you can choose to pay electronically only when you use that lane.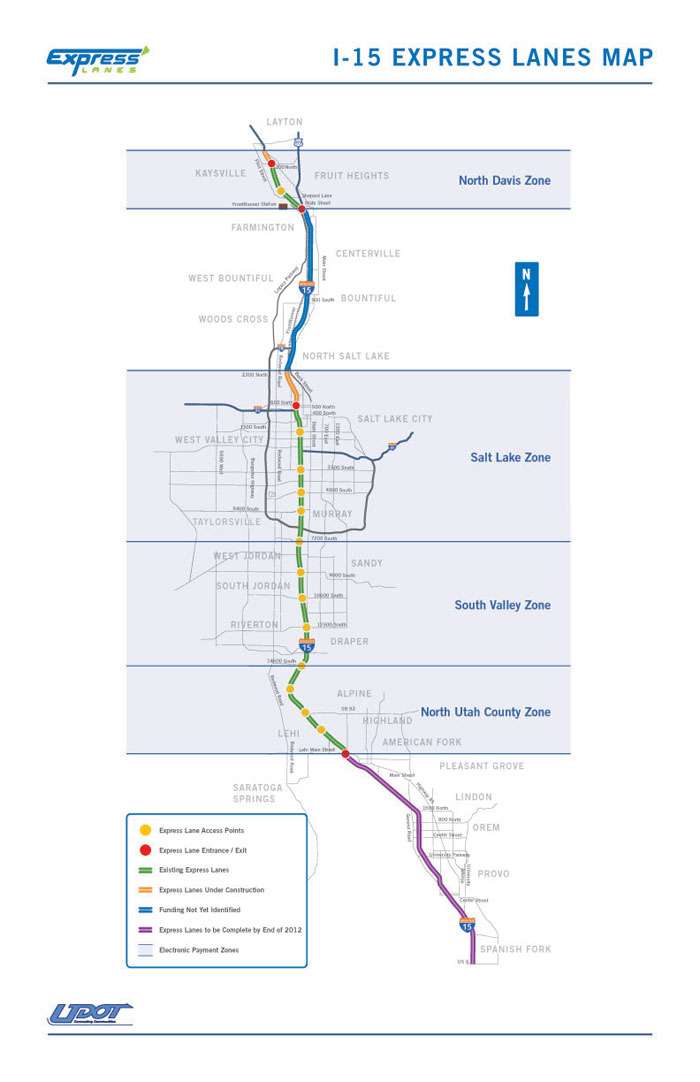 UDOT spokesman Adan Carrillo says this is one more way motorists can use the interstate more efficiently for themselves.
"By us going electronically," he says, "it will open that lane up for people like you and I who sometimes don't have anybody to carpool with, but need to have access to that carpool lane to go faster to a particular destination."
Sensors for the electronic system will be installed in the Express Lanes from Lehi Main Street to 2300 North in Salt Lake, and from State Street in Farmington to the south Layton interchange. When I-15 reconstruction in Utah County is complete, the system will extend to U.S. 6 in Spanish Fork.
How much will it cost?
Pricing for each zone will be based on congestion levels with costs highest during peak traffic times. Electronic overhead signs will show drivers the cost for each zone before they enter and the online account will be debited for each zone traveled through.
Here's how the system works: UDOT will sell you a transponder, about the size of a credit card, that you mount on your dashboard. As you travel down the express lanes, the sensors in the road pick up the transponder and relay the distance that you traveled to a data center. UDOT will electronically charge your checking account or credit card for the amount you owe.
"We'll only get charged for as long as we need it, for as many times as we need it," says Carrillo. "When we don't need it, we can just normally ride on the normal lanes."
The specific cost depends on the congestion in each zone, and how many zones you drive through. There's a maximum charge of $1 per zone, and four zones.
Construction closures

Drivers will see night and weekend closures of the Express Lanes throughout the process, excluding holidays. Night closures will last from 8 p.m. to 5 a.m. and weekend closures from 8 p.m. Fridays to 5 a.m. Mondays.
"You will be charged more when the freeway is more congested during the peak times, and you'll be charged a lot less when it's not congested, obviously," says Carrillo.
UDOT is still working out the one-time cost for the transponder. People currently paying for decals may get it free, and there may also be a promotional deal for the earliest users.
Expect lanes closures off peak times in the months ahead for installation of the sensors.
E-mail: jboal@ksl.com
×
Related links
Most recent Utah stories