Estimated read time: 3-4 minutes
This archived news story is available only for your personal, non-commercial use. Information in the story may be outdated or superseded by additional information. Reading or replaying the story in its archived form does not constitute a republication of the story.
SALT LAKE CITY -- Deseret Book is about to unveil its new flagship store in downtown Salt Lake City. It will be the first big retail outlet in City Creek Center.
President and CEO Sheri Dew spoke to KSL about the history of the store and the grand opening.
Virtual Tour:
The year was 1866 and George Q. Cannon and Sons opened near South Temple and Main Street. A bookbinder and bookseller, his shop was the forerunner of Deseret Book Company.
The new flagship store is about to open just a few feet from that original location.
"We're actually not sure about the very original location, but it was either a few feet to the left or to the right of us, and so we feel like we've split the distance and we've come home and are right where it began," says Dew.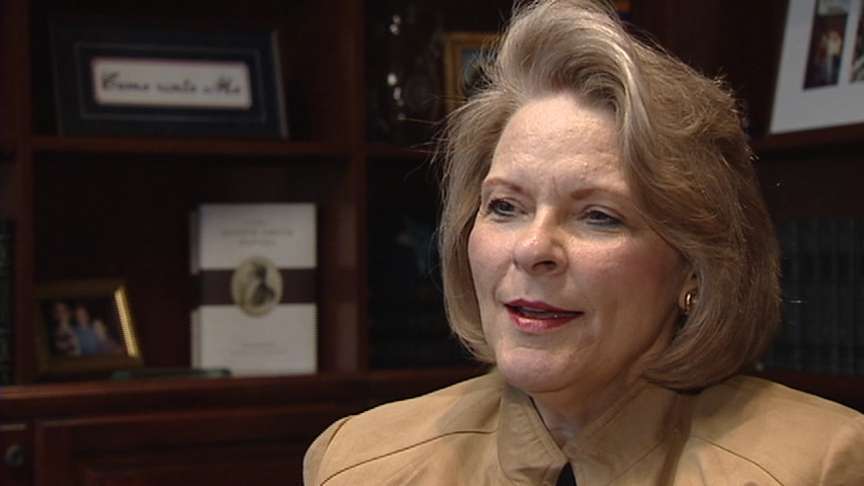 But, she says, this is not just a store, it's an experience - 14,000 square feet that will include a fine art gallery, an old-fashioned Sweet Treat Emporium and new products.
"We're developing a line of china, made in China, that just has a subtle little beehive on it," Dew says. "You're going to see different displays, different things that really include even artifacts."
Deseret Book always has and will focus on products for Latter-day Saints, but Dew recognizes the new store is located directly across the street from Utah's number one tourist attraction.
The new Deseret Book Flagship store
You will find...
The Largest selection of LDS Products anywhere
Fine Art Gallery with Concierge Service
Limited-Edition Leatherbound Collections
Distribution Services Store
32-Foot Video Wall and Interactive Displays
Old-Fashioned Sweet Treat Emporium
Custom Scripture Rebinding
Historic Artifacts on Display
Premium Temple Square Parking
New Frozen Take 'N' Bake Lion House Rolls
"We will produce some certain kinds of product for this store, keeping in mind that those not of our faith may walk across the street after having had a nice experience at Temple Square," she says.
Opening first at City Creek brings some pressure, but Dew says it's also an advantage.
"This needs to be better than anything we've ever done. It needs to offer more, not just in terms of product but also in terms of opportunity," she says.
Grand Opening Celebration
Deseret Book Flagship Store
Salt Lake Downtown Store
45 W South Temple
April 2nd - 10th

Enjoy 20% off store merchandise
Author Signings
Lion House Signature Treats
and Product giveaways
Utah Office of Tourism Deputy Director Tracie Cayford says, "When you come to Utah, you have to visit Temple Square. If I were going to Rome, I would want to see the Vatican."
Cayford says more out-of-towners visit Temple Square than any other tourist attraction in Utah.
But Cayford says there is one complaint tourists have about visiting Temple Square, or downtown Salt Lake in general.They say that such a big tourist attraction should have more nearby parking spaces. More spots will open right under the Deseret Book flagship store this week, accessed on South Temple just west of Utah Woolen Mills.
Downtown Alliance Executive Director Jason Mathis says, "Our goal at the Downtown Alliance is to allow people to come and park once and be able to access all of downtown, either through TRAX, or we've talked about a streetcar system that could be built."
---
The 14,000-square-foot flagship store is the largest location Deseret Book operates.
---
Mathis says their polling shows people all over the Wasatch Front feel an ownership of downtown Salt Lake City, although that sentiment could be stronger. But, he says there is a ripple effect of excitement that downtown businesses get as more parts of the City Creek Center come online.
"I think it gives people a lot of enthusiasm and excitement about the next phase of downtown," he says.
The new 17-foot-high front window of Deseret Book will feature what Dew describes as "must-see" displays -- the first one being a tribute to the Mormon Tabernacle Choir, complete with a replica of the organ and one of the original pulpits.
The store opens to the public Friday just in time for The Church of Jesus Christ of Latter-day Saints' General Conference weekend.
------
Story compiled with information from Carole Mikita and Paul Nelson.
×
Related links
Related stories
Most recent Utah stories