Estimated read time: 2-3 minutes
This archived news story is available only for your personal, non-commercial use. Information in the story may be outdated or superseded by additional information. Reading or replaying the story in its archived form does not constitute a republication of the story.
Richard Piatt Reporting On Tuesday Governor Huntsman put his signature on the last of the bills the legislature passed this year. Among them was a record boost to education funding. His audience for this bill-signing event had a special interest in what was happening.
The group in attendance was students from Beehive Elementary School in Kearns. The bigger picture is that reform and record funding may not sink in for them right away. But a lot of them knew that it was a big deal to have the governor in their school.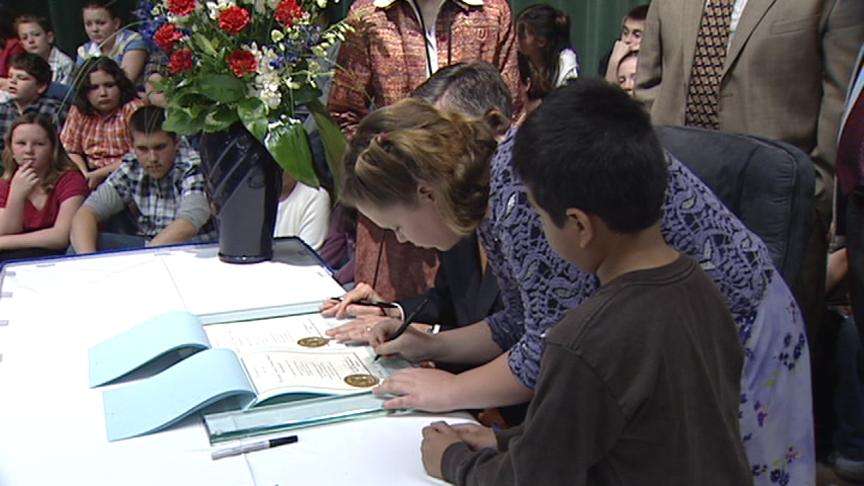 It was a mix of a civics lesson and a ceremony at Beehive Elementary School. Amid the usual thrill of having Governor Huntsman right in front of them, the students tried to get his attention as he picked volunteers to co-sign six bills.
Using a special ceremonial pen, students wrote today's date on the bill itself, under the governor's signature.
2007 Education Bills
--HB 48 Extended-Day Kindergarten
--HB 79 Concurrent Enrollment
--HB 150 Funding
--HB 234 School Board Pay
--HB 382, HB 461 Technical Amendments
The funding package boosts teacher pay, classroom spending and more by $441 million. "Today may represent an important first step in getting funding in our schools that we'll all be satisfied with longer term," Governor Jon Huntsman said.
Still, amid the ceremony, there is anxiety about the future of class sizes--and about school vouchers. Sarah Meier, who is a member of the state school board, was a little concerned how it is all going to pan out. "I know the school board is setting rules up, that's underway, and there's a petition drive going on. So it's sort of, in my mind, all up in the air," Meier said.
The governor's signature on these six bills is widely seen as good news for Utah education. But the event was a little nerve-wracking for the few who were put on the spot. "Kind of nervous, kind of shy because you've never been with the governor before," Edith Martinez, a 4th grader at Beehive Elementary, said.
Later, in Cache County, the Governor signed the last of the bills Utah lawmakers sent to his office. He did not veto one of them.
×
Most recent Utah stories