Estimated read time: 3-4 minutes
This archived news story is available only for your personal, non-commercial use. Information in the story may be outdated or superseded by additional information. Reading or replaying the story in its archived form does not constitute a republication of the story.
KSL Team CoverageSalt Lake's anti-war mayor and the talk-show host who is the self-appointed defender of the Bush administration are continuing their war of words. Today, they're accusing each other of trying to back out of a promised debate.
At this point, the two can't even agree on the rules surrounding a debate, though both Anderson and Hannity contend it is the other person who's dragging his feet.
Mayor Anderson stood on the steps of city hall yesterday protesting the war in Iraq. He was the lead speaker in a peace rally held for the fourth anniversary of the war. "President Bush has disgraced our armed forces and our nation by prosecuting an illegal, tragic war in Iraq and engaging in abuses of power and horrific violations of human rights," Anderson told the crowd Monday.
While Anderson called for the impeachment of President Bush, Hannity said on his radio program, "The mayor is too busy out protesting every other day that he just doesn't have the time to negotiate in terms of a debate."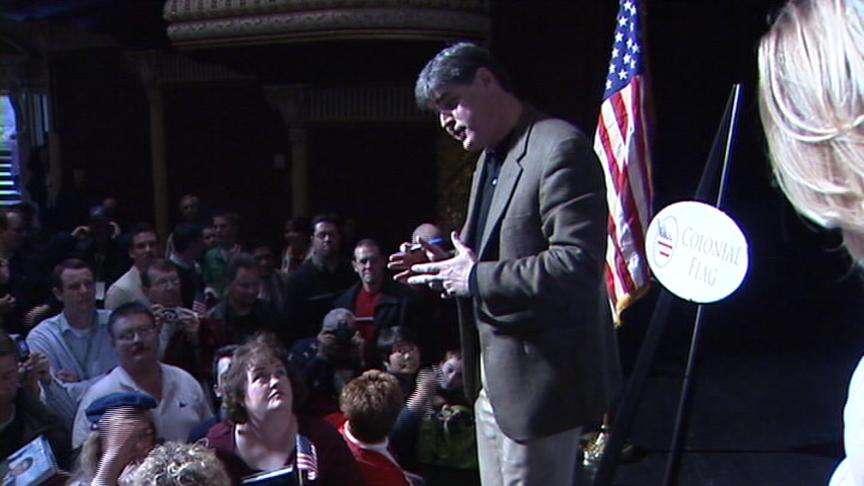 "He doesn't want an actual debate," Hannity said. "He wants a joint press conference. I said, 'If that's the case, I might as well send a video in.' There's no point in flying out to Salt Lake City to debate someone who doesn't want to debate."
Hannity went on to say Anderson won't return his calls and is putting up roadblocks to stall a debate. "That's classic Sean Hannity," said Anderson. "Make it up as you go along."
The mayor showed us an e-mail that was sent 45 minutes before yesterday's protest, asking Hannity's producers if they can resolve certain logistical issues. "What's going on in fact, and what Hannity is saying on the radio, are two completely different things," the mayor said. "We've got it in writing. They're the ones setting up every obstacle."
So, it's he-said, he-said, but the mayor hopes the issues can be resolved and the debate can go forward. "I said, great let's do it. I want to debate Sean Hannity," Anderson told Eyewitness News, "And if he won't do it, bring out anybody else."
According to the Deseret Morning News, Anderson's office says Hannity will only allow FOX News, the local FOX affiliate, and KSL Newsradio to cover the debate since he considers them loyal affiliates. "I'm not gonna do that," Anderson rebutted. "I'm not gonna be Fox television's cash cow on this thing." A spokesman for Anderson said if Hannity wants an open, public debate, media access should not be limited to print and broadcast outlets to which he has financial ties.
Anderson was originally scheduled to debate Hannity on "Hannity and Colmes" on March 8, but producers canceled the segment.
Political scientist Matthew Burbank sees the tussle as a telling sign of the on-going national divide. "What you have in a way are these two public figures attempting to articulate the views of the people who are generally in one camp or the other," explained University of Utah Political Science Professor Matthew Burbank. "There's a whole lot of bluster going on on both sides, and there's a real risk that nothing really very valuable will take place."
The debate is not canceled, it's just up in the air. Both parties believe the logistics can be worked out, but the major hang-up is scheduling. Can Hannity and the mayor find a date where the two are available? We'll see if it works out, and we'll keep you posted.
×
Related links
Most recent Utah stories