Estimated read time: 3-4 minutes
This archived news story is available only for your personal, non-commercial use. Information in the story may be outdated or superseded by additional information. Reading or replaying the story in its archived form does not constitute a republication of the story.
SALT LAKE CITY -- Utah Congressman Jim Matheson announced Saturday he will vote against President Obama's health care reform bill.
In a statement, Matheson said the legislation "is too expensive, contains too many special deals, does not contain health care costs and will result in increases in health insurance premiums."
Matheson said improving health care and providing affordable coverage in Utah will remain "critical" to him, but said he believes supporting the "wrong kind of reform" which will "increase health care costs" will hurt the nation more than it will help.
The congressman spoke to KSL on the phone from his Washington, D.C. office Saturday afternoon shortly after releasing his statement. He said though he likes many things in the bill, including the way it would stop insurance companies from denying people with pre-existing conditions and eliminate lifetime caps, he doesn't feel it goes quite far enough.
"At the end of the day, the ultimate goals we need to have in health care reform are we need to find a way to get affordable coverage for everyone and secure it so it's affordable over time and costs don't grow too fast," he said. "I think there's more work to be done.
He went on to say, "I think we need to do health care reform in this country, unfortunately I don't think this bill accomplishes what we really need to accomplish which is securing a stable health care industry for the future."
For those reasons, Matheson said he will vote 'no' to the president's massive health care overhaul. He voted against the House version late last year.
The House vote is set to take place in Washington, D.C. Sunday.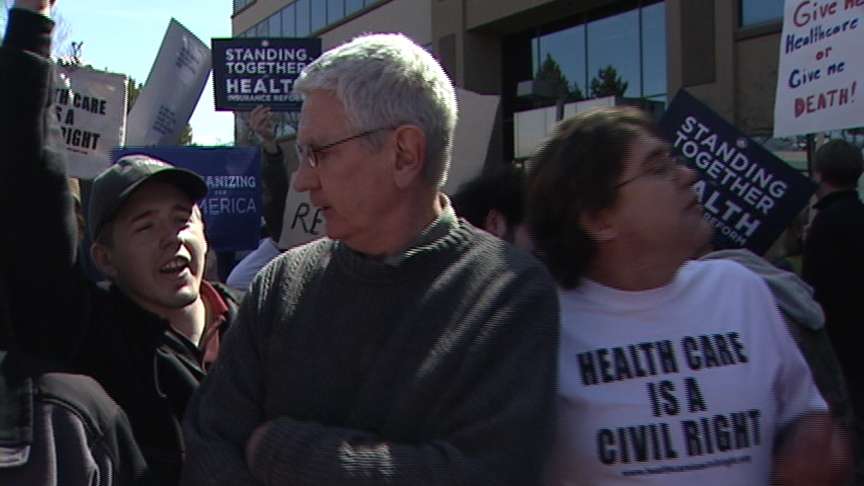 "Going forward, I will continue to work in a bipartisan way to fix what is wrong with our health care system, to preserve what is right and to ensure all Utahns have access to the affordable, quality care and coverage they need," Matheson said in his statement.
The Utah Health Policy Project issued a statement calling Matheson's decision disappointing. It says Matheson is leaving Utah without a voice in this historic vote.
Matheson has received intense pressure from Utahns on both sides of the debate in recent days. His spokeswoman, Alison Heyrend, says the congressman's staff has heard from more people on this issue than any issue since he joined Congress a decade ago.
Matheson's announcement came as Utahns both for and against the bill rallied outside his Salt Lake City office Saturday afternoon. They carried signs and chanted slogans, and at times the rally became intense and hostile as the two sides faced off.
The crowd exchanged personal attacks and profane insults as tempers ran high.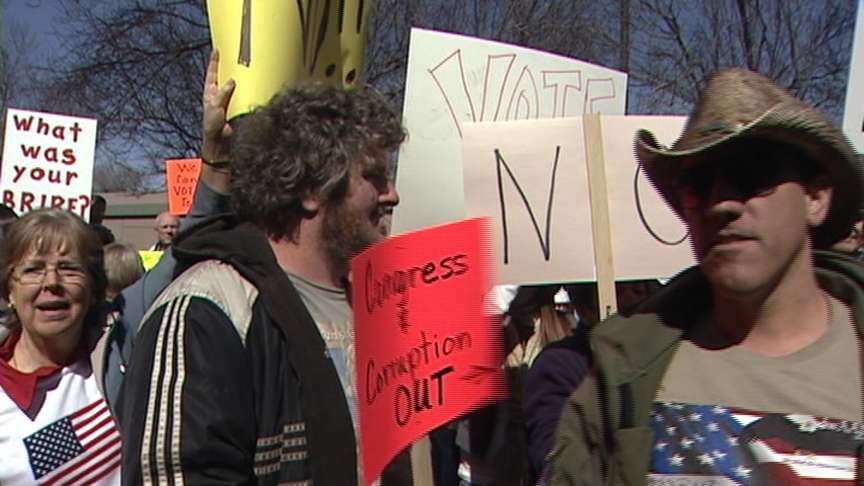 Dr. Ellen Brady stands in favor of the health care reform bill.
"The budget bill shows it will actually save us money," she said. "It will constrain a number of insurance industry abuses. It needs to be done. It absolutely needs to be done."
Those in favor of the bill say it's time for change, that too many Americans are uninsured and the bill will curtail abuses by insurance companies.
Those against it cite cost, say it was put together too quickly and worry it's a step toward government-run health care.
Steven Price is one of those people. "I think it has not been well thought out. It's too expensive. I'm concerned about that. Who's going to pay for that?" he said.
Democratic leaders need 216 votes to pass the legislation. It would take 38 "no" votes from Democrats to kill it.
[CLICK HERE] to read Matheson's full statement.
[CLICK HERE] to read the full statement from the Utah Health Policy Project.
E-mail: sdallof@ksl.com
×
Related links
Related stories
Most recent Utah stories