Estimated read time: 3-4 minutes
This archived news story is available only for your personal, non-commercial use. Information in the story may be outdated or superseded by additional information. Reading or replaying the story in its archived form does not constitute a republication of the story.
SALT LAKE CITY -- Health insurance is something we hear a lot about these days, mostly of the uninsured. But what if you thought you had health insurance, only to find out the policy you've been paying for doesn't actually exist? That's exactly the position in which hundreds of Utahns find themselves.
The Utah Attorney General's Office and the State Insurance Department have issued a warning to consumers: An insurance company with hundreds of customers in Utah is not legitimate.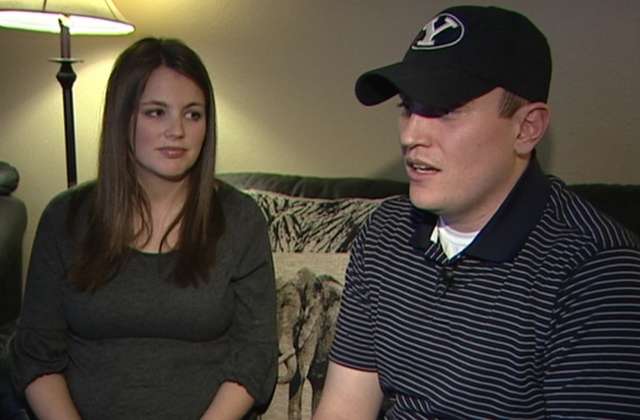 Chris and Ashly Russell have found that out the hard way. The couple thought they were preparing as well as they could for the arrival of their fourth child -- a son, due on the Fourth of July.
Before conceiving, the Russells purchased supplemental insurance through a company called AIM Health Plans to help with the cost of their new baby. It was a pricey plan -- $350 a month -- but they signed up through a reputable agent and thought it was worth the cost.
"You sign up, you hope you get pregnant fairly soon," Chris says. "If everything works out, you go through the pregnancy, you collect money, things work OK.
But when they filed their first claim, following Ashly's first doctor's appointment, they realized things weren't working out.
"They said that our policy was terminated in November; but by the time we learned this it was February, and they hadn't stopped taking payments from us," Chris says. "They never sent us paperwork telling us they had terminated the policy."
After paying for nearly five months, the Russell's got some shocking news: turns out nearly 400 Utah residents are having similar problems.
"These people have actually not had insurance underwritten by an insurance provider authorized in this state since July," says Assistant Utah Attorney General Bryce Pettey.
The Utah Attorney General's Office says AIM's insurance underwriter pulled their backing in July of last year -- the same time the Russell's signed up.
AIM told consumers they had a new underwriter, Town and Country, which is based in Utah. But Town and Country never agreed to anything, and hundreds of Utahns, as well as consumers in more than 40 states, have been uninsured for months.
"These 400 people have been responsible in thinking that they have provided this coverage for themselves and their families through AIM, only to find out now that for the last several months they really have not had the coverage that they thought that they had," Pettey says.
Now, the Russells are trying to figure out what to do before their new little one arrives.
"You promised to pay. You haven't stopped for even one day to collect money from us, so why not pay us the claims that we're due?" Chris says.
KSL News tried to contact AIM, but received no response. They are based out of New York.
Right now, no criminal charges have been filed against AIM or its owner. That's something the Insurance Fraud Department will look into.
If you think you may be a victim, the Utah Insurance Department urges you to contact them through their website: www.insurance.utah.gov.
E-mail: jstagg@ksl.com
×
Related links
Most recent Utah stories