Estimated read time: 2-3 minutes
This archived news story is available only for your personal, non-commercial use. Information in the story may be outdated or superseded by additional information. Reading or replaying the story in its archived form does not constitute a republication of the story.
Ashley Hayes ReportingThe University of Utah participated in a study released last month concerning the treatment of scoliosis. Two to three percent of the U.S. population suffers from the disease, which causes curvature of the spine.
Researchers, including University of Utah orthopedists, found waiting too long to have spinal reconstruction surgery creates major complications for scoliosis patients. One of those complications is the threat of paralysis.
We met with a man who, at age 25, underwent a series of surgeries this past year to fix his spine, despite the risks. He says it was the best decision he ever made.
"Sit up straight" is a phrase most of us hear at least once during childhood. The command sounds simple, but not for scoliosis patient Edward Hensen. He says, "The pain never did go away. It was constant."
X-rays illustrate Hensen's reality for the past 25 years. It's been an excruciating existence.
"There were quite a few times I thought about suicide," he said. "With the pain always there, I had a hard time functioning. I couldn't get my sleep. I'd be up almost all night."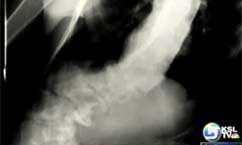 Mentally it's been equally as challenging.
"Going to school was tough because I had a lot of kids that would make fun of me."
That was all before Hensen went to the University of Utah orthopedic center.
Dr. Michael Daubs works there. He said, "When I first saw Ed I watched him walk in my office. He was so off-balance and his spine was so convoluted I remember thinking, 'How am I going to fix his spine?'"
Hensen suffers from a severe case of scoliosis that developed aggressively during his adolescence.
"We have to try and bring his spine this way," Dr. Daubs explained. "So we actually cut a piece of his bone out and then actually brought his spine over."
Hensen says the surgery went great, despite the fact that he had close to 30 screws and two very long stainless steel rods in his back.
Hensen's got the scars to prove it. But he gladly shows off his new straight back. Hensen has grown five inches from the surgery.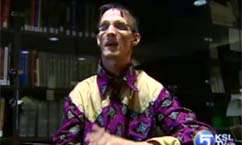 Now that he can stand upright, he's as tall as his surgeon. It is a thrill for him to be able to look straight in the eyes the man who gave him a new life, one where "sit up straight" is no longer a challenge. Hensen says because of the surgeries he can now walk and drive his car without pain.
Dr. Daubs said at age 25, Hensen's back is far more rigid than an adolescent's spine, which was one of the concerns in operating on him. Daubs says the best way to avoid a case as severe as Hensen's is for parents to pay close attention to their children's backs during adolescence.
×
Related links
Most recent Utah stories