Estimated read time: 2-3 minutes
This archived news story is available only for your personal, non-commercial use. Information in the story may be outdated or superseded by additional information. Reading or replaying the story in its archived form does not constitute a republication of the story.
Richard Piatt ReportingSalt Lake City Mayor Rocky Anderson joined thousands of protesters Saturday at an anti-war rally in Washington, D.C.
Demonstrators in the nation's capital braved a chilly day to march from the Lincoln Memorial to the Pentagon. But here in sunny Salt Lake City, Mayor Rocky Anderson's war protest is once again getting mixed reviews.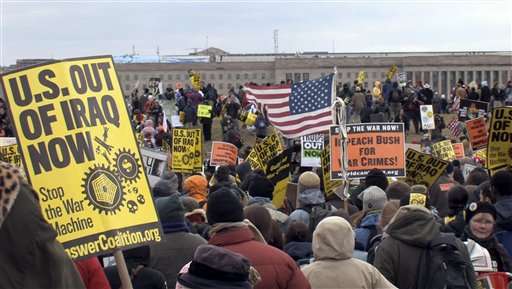 It's not the first time, and it probably won't be the last time that Rocky Anderson speaks up publicly about the war in Iraq. But to some people, it's starting to get a little old and not just in a political way.
Today's rally followed the path of a war protest of the 1960s. Anti-war mom, Cindy Sheehan, was front and center in today's march. By special invitation, Salt Lake City's mayor was there, too.
"We will not support a president who harms our nation and its people," Mayor Anderson told the crowd.
Anderson supports a call for presidential impeachment. Because of that, last week talk show host Sean Hannity challenged Anderson to a debate.
All of this high-profile activity is not going unnoticed by folks at Salt Lake City Hall. Behind the scenes, there are mixed feelings about the mayor dividing his attention between day-to-day operations and national issues. Among those people who are most critical is at least one member of the city council.
"I appreciate his expressed effort," said council member Eric Jergensen, "but the problem is that there are city managers and members of the city council who have issues that need to be moved along. Nothing's getting done."
Anderson fiercely refuted that charge in an interview with Eyewitness News last week. At that time, he said, "We are attending to all the city's business. I don't think anyone's not getting their garbage picked up. The potholes are getting filled. We're doing a lot of good things."
In fact, Anderson says he's acting as a good-will ambassador for the city. But some ask if it's working.
"After hearing him speak about anti-war issues or the Iraq war, what have we gotten from that?" asked council member Nancy Saxton. "So I think the public has a right to know."
The value of Anderson's appearances may be hard to measure.
Salt Lake City will have its own march and rally on Monday morning. Mayor Anderson is planning to take part in it.
×
Related links
Most recent Utah stories