FARMINGTON — On Memorial Day weekend in 2011, Corey Peterson and Jan Hendrickson were watching a news special about what families go through when they learn they've lost a loved one serving in the military.
After the TV show was over, someone knocked on the front door. Peterson opened it and saw two soldiers, there to tell him their son, Cody C. Hendrickson, was killed in the line of duty.
For the parents, Memorial Day "definitely used to mean an extra day off for barbecues and fun, but now it's definitely about our soldiers," Jan Hendrickson told the Deseret News on Friday after a memorial for Utah's fallen soldiers was set up at Station Park.
"He's our baby," she said.
To honor those casualties of war, Operation Hero has set up the "Fallen Boots" display, featuring 257 combat boots for the 257 Utah military members who have lost their lives since Sept. 11, 2001.
The display is located at Station Park, 140 N. Union Ave., in Farmington. It can be viewed Saturday through Memorial Day from noon to 6 p.m. each day.
Hendrickson explained that for family members, their fallen soldiers always stay with them.
"They're always there," she said, explaining that she woke up Friday morning and heard the song ('God Bless the USA') playing on TV, the same song that played from speakers at her son's funeral.
"I think that the display in itself brings awareness to everybody else out there, that sees it, that this isn't just a weekend for barbecues and an extra day off. We do have soldiers that have given their lives for us, and this just really brings it all to light," Hendrickson said.
The boots are flanked by an American flag, a military branch flag, the name tag and a photo of the deceased military member. Families of the fallen military men and women also provided typed details about their lost loved ones.
"Each boot represents a lost life," Peterson explained tearfully.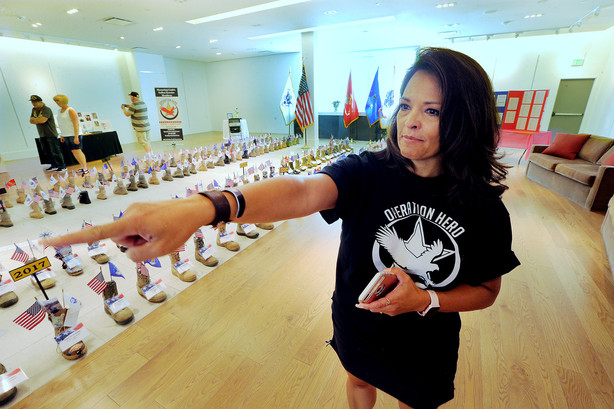 This is the first year of the display at Station Park. It was Antionette Stapley's idea to start the event.
"My husband is one of these service members, and I started Operation Hero in his honor," she said.
Her husband, 1st Sgt. Tracy Stapley, was killed on July 3, 2013.
"I felt there needed to be something to honor all that are fallen," Stapley said, adding that it's her way of "giving back."
She said she hopes people visit the display and "take time to reflect and just pay respects to these individuals … and to remember them on this Memorial Day."
"Each boot has a story, and each boot represents a family that has lost a loved one."

Photos
0 Pending Comments
Sorry, we are not accepting new comments on this story, but if you have more to contribute please email
newstip@ksl.com
Showing of 16 comments
Sorry, we are not accepting new comments on this story, but if you have more to contribute please email
newstip@ksl.com