GARLAND — It's been an emotional year and a half for the wife of trooper Eric Ellsworth, who was struck by a car while on duty. For the first time, Janica Ellsworth is talking about her husband's sacrifice and how he continues to help others even after he's gone.
"He always had a little boy on his shoulders," Janica Ellsworth said, looking at pictures of Eric and the couple's three young sons. "Something I loved about him was we always came first."
She says not a day goes by that he's not still there for her and their three boys.
"He was a police officer and a protector," Janica Ellsworth said. "That was just in his second nature, being a protector."
On Nov. 18, 2016, trooper Ellsworth was being a protector. He was diverting traffic away from a downed power line when he was hit by a driver who didn't see him.
"I was always one of those police wives that thought he was going to be safe, that he would be OK. I'll say my prayers and he'll be OK," Janica Ellsworth said. "It's just something that I deal with every day, and I think I'll deal with it the rest of my life."
The accident happened along state Route 13 in Garland. It was exactly 18 months ago that Eric Ellsworth, even in death, saved someone else's life.
About a hundred miles away, Amanda Holt was also struggling. After years of health issues starting when she was a young girl, she was diagnosed with a partially paralyzed stomach and kidney failure.
Her family was afraid she might not make it.
"You never know, you never know if you're going to wake up the next day," Holt said.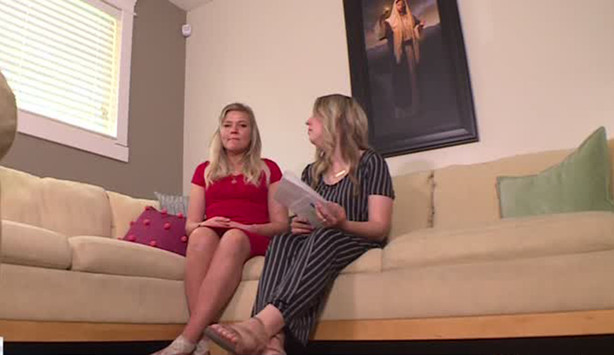 But on Thanksgiving Day, she got a call that changed everything.
"The transplant team called me and they said, 'We have another match for you,'" Holt said.
She would receive trooper Ellsworth's pancreas and a kidney — a perfect match and a life-saving gift.
Janica Ellsworth and Holt connected through a letter, but it's their love for Eric and his sacrifice that has bonded them for life.
"It gave me this life that I didn't get to have with my husband," Holt said. "And so now I definitely don't take my life for granted."
Related:
"His sacrifice wasn't for nothing," Janica Ellsworth said. "There is another person and maybe a few others out there that are able to be here still because of him."
Holt encourages all organ recipients to write the families of their donors and thank them. Janica Ellsworth says her husband's organs helped at least five different people and possibly more.
Photos
Related Stories
0 Pending Comments
Sorry, we are not accepting new comments on this story, but if you have more to contribute please email
newstip@ksl.com
Showing of 17 comments
Sorry, we are not accepting new comments on this story, but if you have more to contribute please email
newstip@ksl.com