SANDY — In the 35-year history of sanctioned boys soccer in the state of Utah, Alta has risen above the rest to six championships — thanks in no small measure to iconic head coach Lee Mitchell.
But in that time, the Hawks had never accomplished one singular feat: back-to-back titles.
Add another to the history books.
Cole Fassler scored an early goal, then facilitated the match-winning throw-in for an own goal in extra time, to help the Hawks win their second-consecutive title with a 2-1 extra-time victory over Viewmont at Rio Tinto Stadium.
"We made history tonight," Fassler said. "We're the first Alta boys team to go back-to-back.
"I don't even know what to say."
The win marked the Hawks' eighth soccer championship in school history, the second-most in state history. Only Bountiful (nine) has more.
"Right now, it feels like I'm a million years old," said Mitchell, who extended his own state record with eight boys soccer titles to go along with eight girls titles. "But it was great for these kids. They deserved it, and they've worked so hard all season long.
"I'm proud of them."
Fassler opened the scoring just 10 minutes into the match, redirecting a corner kick from teammate Jack Anderson with his right foot for a lead the Hawks (14-4-3) would hold until the final 15 minutes.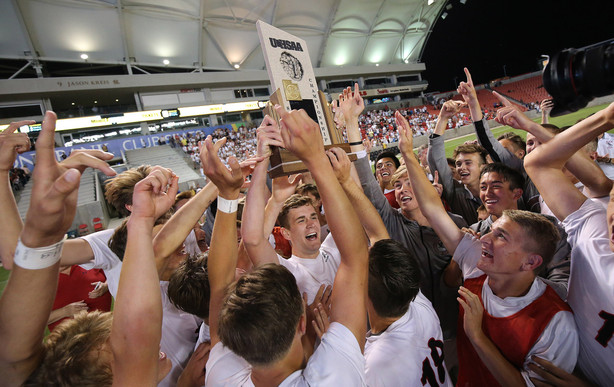 Kenny Kocherscheidt nearly doubled the advantage for Alta in the 51st minute, but his marker from the edge of the area swung just outside the far post of Viewmont goalkeeper Isaac Roy, who was superb in goal.
Viewmont's Preston Pitt did his magic, too, following up his death-defying heroics in the final moments of the Vikings' 1-0 semifinal win over Brighton with a goal of his own.
"What a great team Viewmont is," Mitchell said. "That was a great final game. Both teams battled the whole time. It was a great final."
The Vikings' leading scorer drubbed a header off a corner kick to equalize in the 67th minute, and Viewmont (10-6-4) found renewed life as it searched for a match-winner in the final moments of regulation.
Still, Alta never panicked.
"It was heartbreaking," Fassler said. "But I knew that we had enough heart to get it back. Even when they scored, I knew we could come back and still win the state championship. We have that much heart."
But the final goal never came, and in the third minute of the extra session, Fassler did it again.
The senior defensive stalwart used his lengthy gait to his advantage, pouring in a throw-in from just a few yards off the end line and whipping a ball in that caromed off several players — both Hawks and Vikings — for the match-winner.
"We do that every single game, and almost every single game, I get an assist off it," Fassler said. "It works almost every time.
"It's surreal. This is unreal. I just throw it as hard as I can, and hope for the best."
On an unreal, surreal night at Rio Tinto Stadium when a packed student section was hoping for the best, Fassler made the difference for an Alta team that — finally — did something it had never done before.
"We put pressure on them and that is sometimes what happens," Mitchell said. "When a kid can throw it that far and you've got other kids who are willing to go up and go it, that's a special weapon."
Photos
Related Stories
0 Pending Comments
Sorry, we are not accepting new comments on this story, but if you have more to contribute please email
newstip@ksl.com
Showing of 0 comments