SALT LAKE CITY — The month of May brings warmer temperatures across the U.S. It's a great time to celebrate the last months of spring's locally grown produce such as asparagus, swiss chard, or green peas before summer's bounty of fresh fruits and vegetables burst on the food scene.
May is also Mediterranean Diet month. This eating pattern is a great way to explore flavorful and healthy family meals with a local flair.
Are special foods required for a Mediterranean-style diet?
There are no special foods required for Mediterranean-style meals and snacks. The Mediterranean diet is based on a balance of healthy foods that are very similar to the types of foods eaten in other healthy U.S.-style eating patterns.
According to the Oldways organization, "The principal difference is in the frequency that some foods are eaten."
The Mediterranean Diet Pyramid provides helpful guidelines for the types and frequency of foods to include more of such as vegetables, fruits, legumes, grains, herbs and spices, and healthy fats such as from olive oil. It also provides suggestions for foods to limit to several times a week or monthly. Generally, all foods can fit in moderation within a healthy Mediterranean-style of eating.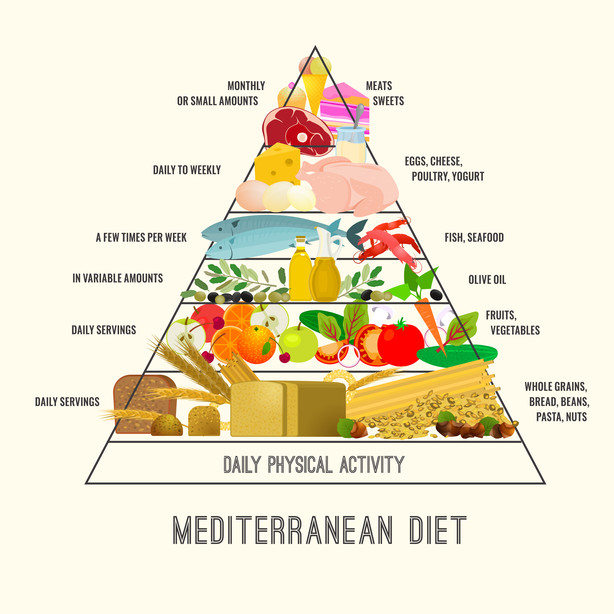 Easy ways to get started with Mediterranean-style eating include enjoying fish or other seafood at meals a couple of times a week or having fruit for dessert more often.
Locally available foods could include eggs from local hens for a morning meal or fresh local greens with seasonal fruit and a drizzle of balsamic vinegar and olive oil for a side dish.
Many local kinds of cheese are available that pack in flavor with even small portions. Try grating local cheese on a salad or vegetable minestrone soup for example.
Staple foods such as beans and whole grains are also being grown and produced in greater varieties on a local scale. While not required, discovering lesser-known heirloom foods such as beans or grains can provide a diversity of healthy flavors within Mediterranean-style meals.
While there is no one food that is required as part of a Mediterranean eating plan, the whole diet approach appears to contribute to a variety of health benefits. Studies show that people who eat a Mediterranean diet have lower rates of chronic diseases such as heart disease, diabetes, and some cancers. They may even live healthy longer with reduced incidence of Alzheimer's disease.
Does it matter how and where foods are eaten?
Many consider a Mediterranean lifestyle more mindful because of its focus on slowing down to enjoy food experiences with family, friends, and community members. Savoring locally grown foods contributes to a natural process of building relationships through interactions with those that grow food and the land that sustains communities.
Food grown close to home may also elicit memories of special dishes shared with loved ones or reminders of favorite seasonal foods available during specific times of the year. Flavors that reflect local traditions and culture may allow these deeper connections within food communities to thrive.
Related:
Overall the Mediterranean eating pattern is based on a healthy lifestyle as exemplified by the Mediterranean culture that traditionally provides plenty of opportunity for regular physical activity such as gardening, walking to food markets, or around to visit with neighbors. Social connections may include regular community involvement in growing, cooking and eating food.
Mediterranean eating typically allows enough time for meals shared around a table where interactions nourish a healthy sense of food, as well as family, friends and community.
To learn more and explore a Mediterranean eating on a local scale:
---
---
Editor's Note: Anything in this article is for informational purposes only. The content is not intended, nor should it be interpreted, to (a) be a substitute for professional medical advice, diagnosis, or treatment. Always seek the advice of your physician or other qualified health provider with any questions you may have regarding a medical condition; (b) create, and receipt of any information does not constitute, a lawyer-client relationship. You should NOT rely upon any legal information or opinions provided herein. You should not act upon this information without seeking professional legal counsel; and (c) create any kind of investment advisor or financial advisor relationship. You should NOT rely upon the financial and investment information or opinions provided herein. Any opinions, statements, services, offers, or other information or content expressed or made available are those of the respective author(s) or distributor(s) and not of KSL. KSL does not endorse nor is it responsible for the accuracy or reliability of any opinion, information, or statement made in this article. KSL expressly disclaims all liability in respect to actions taken or not taken based on the content of this article.
Related Stories
0 Pending Comments
Sorry, we are not accepting new comments on this story, but if you have more to contribute please email
newstip@ksl.com
Showing of 1 comments
Sorry, we are not accepting new comments on this story, but if you have more to contribute please email
newstip@ksl.com