OREM — If Bingham's baseball team was nervous after falling behind 2-0 early in a Class 6A winner's bracket semifinal Monday, the Miners didn't show it.
Games aren't won in one inning, they reasoned — and for the other six, the Miners put on a show against the downtrodden Darts.
Nick Burdette blasted home runs in consecutive innings, and Bingham put up 10 runs on eight hits to pull away for a 10-2 win over Davis and advance to Wednesday's 6A winner's bracket final at UCCU Ballpark at Utah Valley University.
"I honestly have no doubt in this lineup. I know anybody in this lineup is going to come through when we need him to," said Burdette, the 240-pound first baseman with pop in his bat. "It's all chemistry with them. We know everyone will come through at the right time.
"It's a really good feeling knowing that the guy behind you and the guy in front of you is going to come up with it."
Parker Jensen gave Davis (20-7) a 2-0 lead with a two-run single in the top of the first inning.
But that was the last time the Darts would lead.
"I knew that if I kept going, it would be OK," said Bingham pitcher Derek Soffe, who rebounded to allow just two runs on six hits. "We knew that we've been scoring runs lately and doing a really good job at the plate. We trusted our bats after the first inning, shook it off, and knew we'd be back next inning."
The Miners (19-9) responded with three runs in the bottom of the second, and Burdette's first homer gave Bingham a 5-2 advantage in the third.
Burdette ripped his second home run of the day with a two-run shot in the bottom of the fourth, capping Bingham's 8-0 run after falling behind in the first inning.
"It's been a while," said Burdette, who reasoned he hasn't hit two home runs in a game since he was 11 years old. "It felt good.
"I was looking for the fastball, he gave it to me, and I jumped on it and hit it well."
He also took a walk to load the bases in the bottom of the sixth inning, and Brandon Thomas' sacrifice fly on the next batter scored Noah Wallick and Gage Johnson to put the Miners up 10-2.
"We knew we had to score at least two to win, but we knew Derek would throw well and that our bats would come alive," Burdette said. "I didn't have a worry, really."
Davis falls into the loser's bracket and will face Riverton in an elimination game Tuesday at 1:30 p.m. at UVU.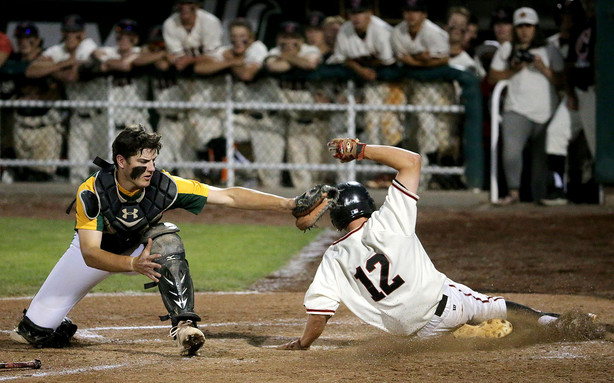 American Fork 15, Clearfield 5
American Fork (22-6) did all the scoring it needed with eight runs on seven hits in the top of the first inning and cruised by the Falcons at UVU.
"We kept the pressure on the whole game, but that first inning set the tone for the game," American Fork coach Jarod Ingersoll said. "The kids came out and got after it. That was good to see."
Colton Carpenter's RBI triple gave the Region 4 No. 2 seed an 8-0 lead in the first inning. But American Fork was just getting started en route to a rematch with Region 4 top-seeded Bingham in Wednesday's winner's bracket final at UCCU Ballpark.
Marty McCoy scored from third on a sacrifice fly in the second inning, and the Cavemen added two more through a pair of RBI singles in the third.
"Our guys put some quality swings together, and we did a good job of executing," Ingersoll said. "We were aggressive and put some pressure on them."
Ethan Giacalone pulled back three runs for Clearfield in the bottom of the third, pulling a standing double to the right-center wall for two scores and coming home on a single in the next at-bat to pull the Falcons within eight, 11-3.
Carpenter smacked a bases-clearing double to the left-center wall in the top of the fourth to put American Fork back up 14-3 before the Falcons added two in the bottom half of the inning to force the game into a regulation seven innings.
Clearfield (15-12) will face Copper Hills in an elimination game at 4:30 p.m. Tuesday at UCCU Ballpark.
0 Pending Comments
Sorry, we are not accepting new comments on this story, but if you have more to contribute please email
newstip@ksl.com
Showing of 0 comments