SANDY — Six games into their inaugural season, Utah Royals FC met at midfield after a game at Rio Tinto Stadium — the same way they had twice before — and shook hands with the visitors, the Washington Spirit.
Then something different happened.
Head coach Laura Harvey ushered the 20-plus players and staff into the north end, where the "Court of Royals" and other supporters were standing, waiting, arms stretched out above their heads.
On the cue of Icelandic international Gunny Jonsdottir, the crowd and players began to clap in unison.
It was the first Viking clap in Utah Royals history — commemorating the first win for the newest franchise in the National Women's Soccer League.
"It was incredible," Utah goalkeeper Abby Smith said. "Everybody was doing it, the fans stayed after to do it, and it was just a great feeling to do the Viking clap after a win."
Kelley O'Hara and Diana Matheson scored a goal in either half, and Smith made one save to earn the shutout as the Utah Royals blanked Washington 2-0 in front of 7,551 fans Saturday night at Rio Tinto Stadium.
The Spirit (1-2-3) had their winless streak extended to four-straight games, while Spirit forward Francisca Ordega was held without a goal for the first time since March 31.
More impressively, Utah's back line of Rachel Corsie, Brooke Elby, Becca Moros and Becky Sauerbrunn held Washington's dynamic attack of Ordega, Mallory Pugh and former BYU star Ashley Hatch without a shot on goal until stoppage time.
"Sometimes when you play against pace, which they have in abundance, the mentality is to drop off," Harvey said. "I've always said 'prevention is better than cure.' Don't let them get quick."
O'Hara opened the scoring in the seventh minute, taking a touch off a well-placed through ball from Amy Rodriguez and finished inside the near post from the middle of the 18-yard box for the 1-0 advantage.
"I feel like it was kind of building, and tonight felt good," said O'Hara, who scored her first goal in a Utah Royals kit. "But we've got to build on top of this and continue to sort out our weaknesses. We'll figure out how to continue being successful week in and week out."
Matheson's tackle forced a turnover on the west sideline, and the Canadian international booted the ball into traffic and right to the feet of Rodriguez to set up a sprinting O'Hara for the goal.
Matheson doubled the advantage in the 66th minute, finishing off her own forced takeaway after a tackle in the Royals' offensive third.
The Canadian international got up after the tackle, launched into a footrace against Washington goalkeeper Aubrey Bledsoe, and poked home an empty-net sitter for the 2-0 advantage.
"I think I looked up enough to see it was most likely going into the goal, and then my head was down the rest of the time," Matheson said. "But I heard that crowd signal that it had gone in at that point."
The defense did the rest. While Smith made just one save, the defensive six of Utah's back four alongside holding midfielders Desiree Scott and Jonsdottir held the Spirit without a shot on frame until Ordega's strike in the first minute of stoppage time.
Sauerbrunn earned a yellow card for taking down Hatch on a breakaway in the first half. But that's the price of stopping a dynamic front-three that has accounted for six goals in 2018 before Hatch's first trip to Utah since leaving BYU prior to the 2017 season.
"It was fun. It was great to see a lot of familiar faces, and to hear some away fans cheering your name," Hatch said. "That's always fun.
"It was a great environment, and hopefully we can keep building our attendance everywhere we go."
It all added up to a win — and a special moment — in front of their home crowd.
"Something about today just felt really good," Smith said. "I think coming into today, with everybody on the same page, we knew we needed the win and wanted to win in front of our home crowd."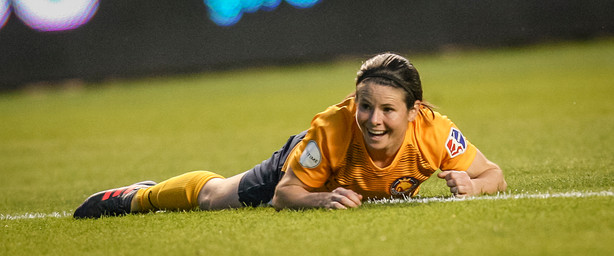 Next up:
Utah hosts the Orlando Pride at 7 p.m. Wednesday, May 9, at Rio Tinto Stadium. The game will air live on KSL.com and the KSL TV app.
Photos
0 Pending Comments
Sorry, we are not accepting new comments on this story, but if you have more to contribute please email
newstip@ksl.com
Showing of 10 comments
Sorry, we are not accepting new comments on this story, but if you have more to contribute please email
newstip@ksl.com