PROVO — Whatever it is, the BYU men's basketball team has struggled inside the Firestone Fieldhouse at Pepperdine.
The Cougars are just 3-5 all-time against the Waves in Malibu, California, site of Thursday's 8 p.m. MST West Coast Conference tipoff. But the record goes even further than that.
BYU hasn't beaten the Waves (4-22, 1-13 WCC) in Malibu since a 63-61 victory Jan. 31, 2012, the year after joining the conference.
Whether it be a hex, a clash of styles or a little bit of both, the Cougars (20-7, 9-5 WCC) just don't get regular road results at Pepperdine.
"That's something special about having BYU on your chest. Everybody wants to give you their best shot," said BYU forward Yoeli Childs, who is averaging 17.7 points and 8.8 rebounds as a sophomore. "For us, Gonzaga and Saint Mary's, everyone will give us their best game. That's a fact. We need to bring our best game, no matter who we are playing."
This year's meeting will have a little more at stake, too; it will be the last time the Marty Wilson-coached Waves will face BYU in a regular-season contest.
The Cougars bested Pepperdine 83-63 in Provo a month ago, one of 22 losses on the season for Wilson's club. Pepperdine's administration made the surprising announcement Tuesday afternoon that the university will terminate the seventh-year head coach's contract at the conclusion of the 2017-18 season.
That means the Waves only have two more weeks, plus whatever happens during the WCC Tournament in Las Vegas, with Wilson at the helm.
"We won't know until we start playing. But I know they've played really hard; I've watched the last five-six games, and Marty had his team," BYU coach Dave Rose said. "He was just having a hard time winning. But they were executing, playing hard and competing right to the very end. These games were close.
"He's got them playing really hard, and I feel for him. It's a challenge."
Wilson was understandably disappointed in his formal dismissal Tuesday. But the former Utah assistant coach knows the business of college basketball, too.
"I have been in college coaching for 28 years and realize that the ultimate goal is to win basketball games," said Wilson, who is 86-125 in seven seasons at his alma mater. "The fact that we did not consistently achieve that goal lies on my shoulders; however, I praise our staff for the integrity that they showed in such a challenging profession where the pressure to bend the rules are great in order to win basketball games."
Even with a 20-point victory as precedent, the Cougars are wary of the Waves. Recent history helps that feeling.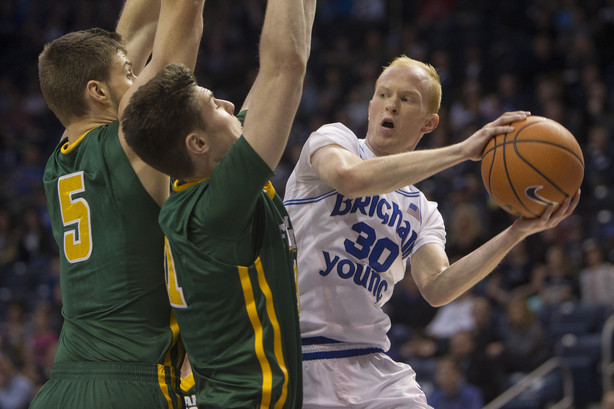 But also, Pepperdine recently received good news with the return of leading scorer Kameron Edwards from injury. The 6-foot-6 forward averages 14.7 points and 6.2 rebounds per game for the team that has just one win in its last 10 games.
Add to it the cocktail of a team playing for its coach's final days, and you have the makings of a loss near the beaches in Malibu.
"Personally, I think they can come out with even more fire," Childs said. "As a player, you develop a great relationship with your coach, and you might play as hard as you can to finish the season.
"I'm sure they will come out and give us their best effort."
Still unbelievable
The Cougars understandably had some good vibes after Saturday's 75-73 overtime win over San Francisco.
Trailing by two or more possessions with as few as 22 seconds remaining in regulation, BYU pulled off a remarkable comeback to top the Dons behind a season-high 26 points and seven assists from TJ Haws.
Childs, who didn't talk to the media after the win, still has a hard time believing it happened, too.
"It wasn't looking good for a minute," said Childs, who had 20 points and nine rebounds Saturday. "But games like that are special. It's special to be able to come back and win like that, and I think it's positive for our team — it's a real confidence booster.
"Being able to come back like that and make those plays during the end of the game has been huge for us."
Related Stories
0 Pending Comments
Sorry, we are not accepting new comments on this story, but if you have more to contribute please email
newstip@ksl.com
Showing of 5 comments
Sorry, we are not accepting new comments on this story, but if you have more to contribute please email
newstip@ksl.com