PROVO — Just like he drew it up.
When the BYU men's basketball team trailed San Francisco 65-62 with 11 seconds left in regulation Saturday afternoon in the Marriott Center, head coach Dave Rose deferred the play call to new assistant Heath Schroyer.
And the Cougars finished it to perfection, he said.
Elijah Bryant's 3-pointer with five seconds remaining forced overtime, and TJ Haws netted a game-high 26 points and seven assists — including the game-winning free throws — to help BYU hold off the Dons 75-73 and hold on to third place in the West Coast Conference.
"I was just sticking with it and believing in myself," said Bryant, who likened the shot to something he's done "probably in 2K, but not in real life." "I had a tough game and couldn't get any calls. But I played until the end, and TJ was able to find me. Yoeli set a great screen, and I got it off."
Bryant finished with 14 points and a game-high 11 rebounds for the Cougars (20-7, 9-5 WCC), and teammate Yoeli Childs added 20 points and nine rebounds with two assists and a blocked shot.
BYU's Dalton Nixon chipped in five points and four rebounds in 19 minutes off the bench.
San Francisco (14-13, 6-8 WCC) led for 23:36 of game time, and used 19 turnovers to take a four-point lead with 22 seconds remaining.
Physically, the Dons seemed to be too much to handle and BYU's 11 first-half turnovers seemed to prove it.
"They were physical. We've got to be stronger the next time we play them," Bryant said. "I think most of (the turnovers caused) was their physicality. We didn't really match that, and tried to make a home-run play."
Souley Boum had a team-high 21 points for the Dons, including a breakaway layup in the final seconds of regulation that gave USF a 65-62 advantage with as few as five seconds remaining after Jahshire Hardnett cut the lead to one on a driving three-point play in the waning seconds.
"I'm just really happy for our guys. We made enough plays to get it to overtime, and one more play to win it," Rose said.
"I feel for (USF coach Kyle Smith); his team played tremendous the whole game. They were physical, ran their stuff well, shot the ball well. It was a good game, and I guess that's how you expect all of these games to be the second time around."
After breaking the full-court press, Boum soared in for the bucket, completely in the clear of everyone but Hardnett.
That's when Schroyer worked his magic.
"I knew it was good," Haws said of Bryant's trey. "Schroyer drew up the play, and said Eli was going to be wide open. He was, and when Eli's wide open like that, there's a pretty good chance it's going in. I was pretty excited."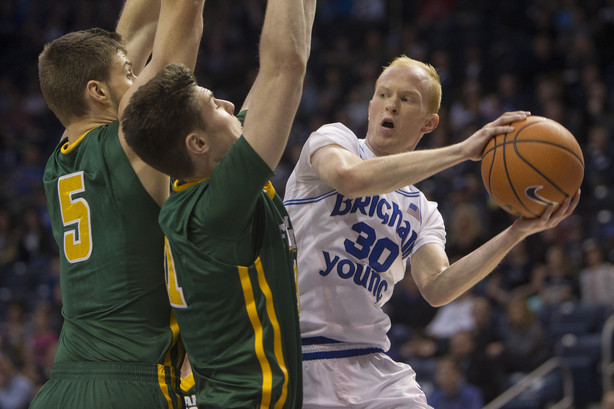 Frankie Ferrari had 16 points, six assists and two steals for the Dons, who got nine points each from Nate renfro and Remu Raitanen.
USF scored the first four points of overtime, nailing back-to-back jumpers through Boum and Ferrari for a 69-65 lead just under 90 seconds into the extra period.
But BYU, which did not attempt a free throw in the first half of play, tied the game from the free-throw line, making four-straight foul shots to make up the difference, 69-69.
Ferrari's third 3-pointer of the game gave the Dons a 72-69 lead it nearly didn't relinquish.
But Haws pulled the Cougars back, if not with his 7-of-14 shooting percentage, then at least through his 6-of-8 effort from the foul line.
With the game tied at 73-73, Haws held the ball for the final shot. He took a dribble, drove to his right, and tried to squeeze by a defender.
A whistle came, and Haws went to the line. Not even Smith tried to argue the call, and Haws sank two free throws for the final margin.
"We were trying to get him on a ball screen. He had been so good in the last 8-10 minutes of the game," Rose said of Haws. "There were such quick decisions here and there, Boum tried to slap it away and steal it, and (Haws) ended up at the free throw line.
"That was not the case for most of the game."
Ferrari scored the first six points of the game to give USF a 6-0 advantage, and it looked like the Dons might run out to a big lead until Rose made a lineup change less than four minutes into the game. The BYU coach inserted McKay Cannon for Hardnett, and the Weber State transfer sparked a 10-0 run to help the Cougars to a 12-8 advantage with 13:27 left in the half.
Defensively, Cannon and Hardnett held Ferrari scoreless until the extra session. Boum, however, went to work.
Boum scored 19 points in the second half, converting 7-of-12 field goals for 21 points, six rebounds, two assists and a steal to lead the Dons.
But with a chance to dribble out USF's seventh win all-time against BYU, Boum added to his point total — and set up Bryant's heroics.
"I think we caught a break at the end of regulation, so our mentality was to win it in overtime," Haws said. "We got down a bit early, but it showed our resilience. I thought we fought hard tonight, and it showed a lot about who this team is."
0 Pending Comments
Sorry, we are not accepting new comments on this story, but if you have more to contribute please email
newstip@ksl.com
Showing of 28 comments
Sorry, we are not accepting new comments on this story, but if you have more to contribute please email
newstip@ksl.com