PROVO — To be frank, BYU's bench was not good during a two-week stretch where it lost three of four.
The moment peaked last Saturday when the Cougar reserves went scoreless in a 68-60 loss at No. 14 Gonzaga.
As good as Elijah Bryant, Yoeli Childs and TJ Haws have been, something needed to change for BYU lest it be relegated to the middling tier of West Coast Conference teams.
So yeah, you can say the reserves took Thursday night's game against Santa Clara personally.
"For all of us, I think every guy was so antsy to play a game and get that bad taste out of our mouth last week," said Dalton Nixon, who scored 12 of BYU's 24 points off the bench in Thursday's 80-58 win over the Broncos. "That's really what we focused on, as a team. Everyone has been itching to play again, and we did a really good job tonight."
The Cougars (19-7, 8-5 WCC) will need another boost from its bench when it welcomes San Francisco for a 2 p.m. MST matinee tipoff Saturday.
"I've seen them play quite a bit, watching the other guys, and that is a team that really impresses me," BYU coach Dave Rose said of the Dons. "They're really balanced, they have a lot of guys who can score, and they spread you out and shoot threes. (Santa Clara) shot 15 threes at the half, and I think we'll see another team who comes in here and shoots 24-30 threes."
Nixon, who also had five rebounds and two assists, played 15 minutes off the bench Thursday night, his highest since scoring in double figures in the same number of minutes against UT Arlington in the Cougars' third game of the season.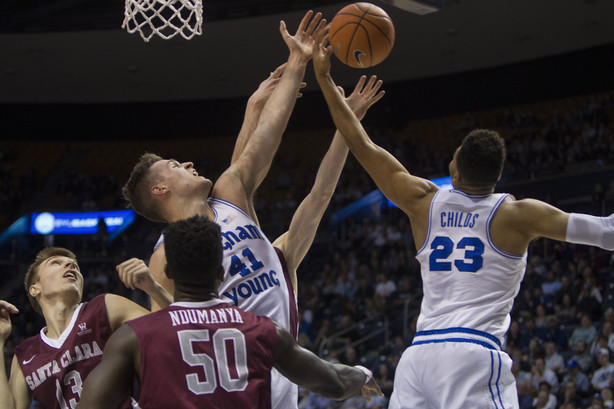 It's good to be back, he said — and BYU welcomed him. Yes, Childs had a double-double and scored a game-high 20 points. But BYU's bench stepped up in a way they haven't in nearly a month, with Payton Dastrup and Zac Seljaas chipping in five points apiece on selective shots.
"It felt really good, for me personally, to get back into a rhythm coming back from an injury," Guys like Payton and Zac stepped up, too. All of the guys on the bench gave it their all today, and it was a really good feel overall."
BYU's ball movement contributed to the depth of scoring, as well. The Cougars assisted on 18 of 24 made shots.
"It was that second and third pass tonight that I was really impressed with," Rose said. "I thought all of our big guys, Luke, Yo, Zac, Payton — they all had some good moments. I think we're starting to understand things a little better."
Rose praised Nixon's play off the bench, calling Thursday night his best game since being sidelined with a foot injury through the middle of the season.
Putting in a balanced effort at home is a step forward. But doing it on the road — where BYU lost three of the previous four — is the next, perhaps more vital, step.
"I think that's expected from young guys at home," Rose said. "Now what we need to do is get that same help when we leave the Marriott Center."
0 Pending Comments
Sorry, we are not accepting new comments on this story, but if you have more to contribute please email
newstip@ksl.com
Showing of 5 comments
Sorry, we are not accepting new comments on this story, but if you have more to contribute please email
newstip@ksl.com