MINNEAPOLIS — The Philadelphia Eagles have a lengthy history of connections to Utah.
From Vai Sikahema to Kevin Curtis to Chad Lewis to Reno Mahe and beyond, the Eagles even drafted former Utah defensive back Eric Rowe with the No. 47 overall pick in the 2015 NFL draft.
But this season, the Super Bowl champion Eagles didn't have a local connection.
Instead, Philly faced two former local standouts — the aforementioned Rowe, and former BYU star linebacker Kyle Van Noy — in Super Bowl LII in Minnesota.
Nick Foles threw for 373 yards and three touchdowns, including the game-winner to Zach Ertz with 2:21 on the clock, and he led the Eagles to their first Super Bowl championship with a 41-33 win over Rowe, Van Noy and the New England Patriots.
Van Noy finished with five tackles — four of them unassisted — as well as a tackle for loss and a quarterback hurry, and Rowe had four tackles and two pass deflections to help lead the Patriots' defense.
"It hurts, it cuts deep," said Rowe, who was drafted by the Eagles in 2015. "We put in so much work, not only for these two weeks but the whole year. Not only to come up short, but it came down to basic football."
Van Noy's impact was felt immediately. The former BYU linebacker from Reno, Nevada, made the first tackle in the Super Bowl, as the Eagles started the first quarter on offense.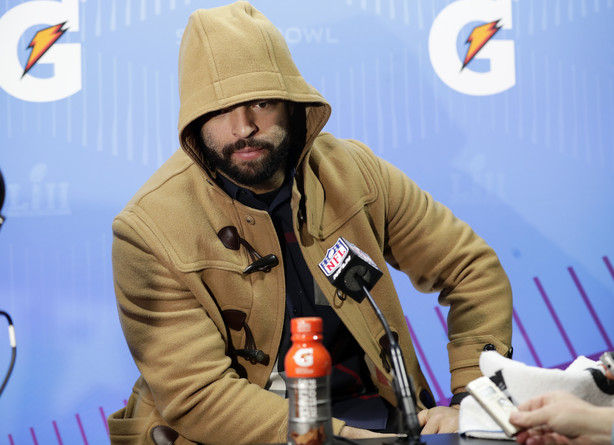 Just two plays later, Van Noy blitzed for a clothesline tackle-for-loss against Eagles running back LeGarrett Blount.
Rowe had two tackles and a pass breakup on the opening drive, including a crucial breakup to hold the Eagles to a 25-yard field goal.
As Brady and Foles led an offensive surge, the defenses (for both teams) took a back seat.
Van Noy added a pass breakup in the fourth quarter. After the Eagles took a 38-33 lead on Foles' 11-yard TD toss to Ertz, Van Noy snuck up and defended a two-point conversion attempt to Clement to keep the margin inside a touchdown.
Even so, Jake Elliott's 46-yard field goal gave the Eagles an 8-point lead with 1:05 remaining, and that was all the city of Philadelphia needed to celebrate a long-awaited Super Bowl title.
And for another local tie — he did it right in front of Lewis and Sikahema, who joined KSL SportsBeat all week for coverage of Super Bowl LII.
"I'm not even thinking about next year," Van Noy said. "I'm thinking about having an opportunity slip."
0 Pending Comments
Sorry, we are not accepting new comments on this story, but if you have more to contribute please email
newstip@ksl.com
Showing of 20 comments
Sorry, we are not accepting new comments on this story, but if you have more to contribute please email
newstip@ksl.com