Former Utah defensive end Kylie Fitts made a pair of tackles, and Richmond quarterback Kyle Lauletta threw for 198 yards and three touchdowns to lead the South to a 45-16 win over the North in the 2018 Senior Bowl in Mobile, Alabama, which featured three former local college standouts.
Former BYU linebacker Fred Warner finished with six tackles for the North, and Weber State defensive back Taron Johnson had two tackles in the North's loss.
Johnson, the Big Sky defensive player of the year in 2017, played 22 snaps for the North squad in the first half and registered one tackle.
NFL analyst Mike Mayock praised Johnson as "another small-school defensive back."
"He's a very aggressive kid," Mayock said during the broadcast. "He tackles, he's impressive and he's a tough kid."
Johnson was the fourth player in Weber State history to earn an invitation to the Senior Bowl, and the first since Anthony Parker and Scott Shields in 1999. Johnson played in 45 games at Weber State, becoming the program's all-time leader with 41 pass breakups, in addition to six interceptions and 162 tackles.
Fitts had two tackles in the first half for the South squad. The 6-foot-4, 265-pound native of San Bernardino, California, had 68 tackles and 14 tackles for loss in a career that was hampered by injuries with the Utes.
Warner had three tackles in 18 plays in the first half for the North, but he may be remembered most for colliding with a teammate during South running back Rashaad Penny's touchdown in the opening quarter.
Penny finished with 64 yards on nine carries, and added a 73-yard receiving touchdown from former Virginia quarterback Kurt Benkert for the South.
NFL analyst Charles Davis was impressed by Warner's play in coverage.
"He's very good in pass coverage, 13 passes broken up to go along with those seven interceptions," Davis said during the broadcast on NFL Network. "But he does a good job in the run game as well."
Warner finished his four-year BYU career as a 2017 team captain, compiling 264 tackles, 32 tackles for loss, seven interceptions and 13 pass breakups while playing in both a 3-4 and 4-3 defensive alignment.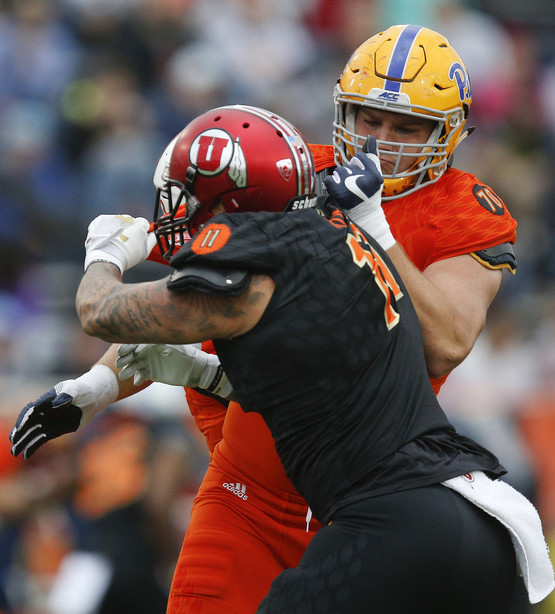 Former Logan High quarterback Luke Falk was originally scheduled to appear in the Senior Bowl, but he left Mobile after a successful week of practices so that he could attend the funeral of former Washington State teammate Tyler Hilinski. In Falk's place, former Oklahoma quarterback Baker Mayfield played a few series, completing 3-of-7 passes for 9 yards as one of three quarterbacks to suit up for the North.
Hilinski, the Cougars' backup quarterback and close friend of Falk, died of an apparent self-inflicted gunshot wound Jan. 16 in Pullman, Washington, according to the Whitman County Coroner. The 6-foot-3 signal caller started for Falk during the latter's senior year, and was set to take over at Washington State for his senior year in 2018-19.
None of his teammates were aware of the internal struggles that Hilinski went through, Falk told the Seattle Times at Senior Bowl media day.
"I want people to remember Tyler as an amazing person he was, his bubbly attitude, the draw he had to people and people had to him," Falk said during Senior Bowl practices. "I want people to start talking about suicide. I think us as men suppress our emotions and feel like we can't express what's really going on and how we feel. I think that we need the resources and have the trust that we can do that."
By most accounts, Falk was among the most impressive players at Senior Bowl practices. One of the top projected quarterbacks in the 2018 NFL draft class, Falk rated favorably in each of his interviews with NFL scouts, and accepted an invitation to the NFL scouting combine Feb. 27 in Indianapolis.
Falk rose from an unrecruited, unknown commodity and state champion at Logan High to walk-on quarterback to Washington State's all-time wins leader by the end of his four-year career in Pullman. The 6-foot-4, fifth-year senior wrapped up his career with 14,486 passing yards, 119 touchdowns and 39 interceptions while commanding the "Air Raid" offense of former BYU rugby player Mike Leach.
Photos
0 Pending Comments
Sorry, we are not accepting new comments on this story, but if you have more to contribute please email
newstip@ksl.com
Showing of 6 comments
Sorry, we are not accepting new comments on this story, but if you have more to contribute please email
newstip@ksl.com