PROVO — Friday afternoon's pre-Christmas non-conference finale had all the makings of a trap game for the BYU women's basketball team.
After finals week, coming off a brutal 70-45 loss at California, and just three days before Christmas, the Cougars looked like they needed some time off in trailing visiting Montana State 15-13 after the first quarter.
Then they woke up.
Cassie Broadhead Devashrayee had 17 points and seven assists, and Brenna Chase supplied 14 points and five assists to lead the Cougars to a 75-54 win over the Bobcats in the final game before opening West Coast Conference play next week.
"This is a good win; it made my Christmas, that's for sure," BYU coach Jeff Judkins said. "It's really hard when you lose a game before Christmas because you have so much time to think about it."
Malia Nawahine added 11 points, six rebounds, four assists and five steals for the Cougars (5-6), who forced 22 turnovers and only had eight of their own.
"Malia is one of those kids who you look at her stats, and you don't think she's done as much as she has," Judkins said. "She had to guard 3-4 people today, and they were different players — inside, outside, shooters and drivers. But she's one who can do it."
Nawahine's four assists were the third most on the team, and she had the fewest turnovers — none.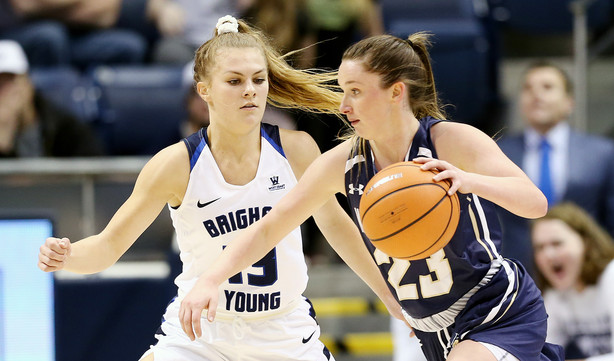 "That was one of our goals in practice: to up our defense," she said. "We played well together, and that gave us those turnovers."
After the dismal first quarter, Devashrayee helped BYU end the half on a 16-6 run to take a 29-26 halftime lead. The Cougars never trailed again.
"The biggest thing for us was our defense," Nawahine said. "That helps our offense. We can score off good defense."
Nawahine canned a 3-pointer to cap a 7-2 run to start the third quarter, and the Cougars held the Bobcats to 38 percent shooting in the win.
Chase notched her second 3-pointer with 7:16 left in the fourth quarter to push the lead to 19 points, and the Cougars never looked back.
"I think we just played well together, and that helped me to get going," Chase said.
Hannah Caudill led Montana State (6-5) with 12 points and four assists, and Oliana Squires added 11 points, six rebounds and three assists for the Bobcats.
With non-conference play in the rearview mirror, the Cougars turn their attention to the WCC, where preseason favorite Gonzaga awaits a crowded field with the top five teams separated by just two games.
"We still have a long ways to go, but I think getting Sara (Hamson) back full time will help," Judkins said. "We'll get her comfortable offensively. Tonight, you saw a couple of moments of her offensive ability, and we haven't had a lot of time to work with her."
The Cougars open WCC play Dec. 28 at Portland before traveling to Saint Mary's for the weekend.
Related Stories
0 Pending Comments
Sorry, we are not accepting new comments on this story, but if you have more to contribute please email
newstip@ksl.com
Showing of 0 comments