TWIN FALLS — Whitney Romans and her mother had talked about her wedding day since she was a little girl. But she never imagined that day would be Sunday — or at a hospital.
Whitney's mother, Debbie Tyler, has stage 4 endometrial cancer. Her health is declining and she's on life support in the Intensive Care Unit at St. Luke's Magic Valley Medical Center in Twin Falls, the Times-News reported.
"(The cancer) has caused a lot of severe complications," Whitney said Thursday in a quiet, empty room in the ICU just a few doors down from her mother.
Whitney — who lives in Hampton, Va. — had never heard of an ICU wedding. But around noon Sunday, she and finance, Nathan, finalized their decision to get married — that day. They've been together for eight years and engaged for more than four.
They wanted Whitney's mother to be part of the celebration.
"I thought something that might make her very happy is to get married," Whitney said.
On Sunday, ICU director Curt Egbert was sitting in a church class when he received a text message from a charge nurse. She asked if he had any ideas for how to make a nice wedding happen that day for a patient's daughter.
"I'm not a party planner by any means," Egbert said. He left the class and went to get his wife out of her class.
Initially, they thought they had two hours to pull together a wedding. As it turned out, they had a little longer. The wedding was delayed until 5 p.m. and then, until 6 p.m.
Egbert called his sister, ICU nurse April McQueen, for help. McQueen's daughter got married about a year ago and had leftover wedding decorations.
Egbert and his wife also gathered up decorations from their own house to bring over to the hospital. Egbert's wife and a few other family members brought in their wedding dresses to see if one would fit Whitney. McQueen's daughter's dress fit her perfectly.
A team of other St. Luke's employees — from nurses to hospital administrators — pulled together to take care of decorations, photography and videography and flowers. St. Luke's food service employees made food and wedding cake for a reception.
"It was a total, complete effort to make it memorable," Egbert said.
St. Luke's employees asked Romans what wedding colors she wanted. She decided on red and white. The wedding was in Whitney's mother's hospital room. The outside of the room was decorated with tulle and lights from Egbert's Christmas tree.
Beyond decorating for the wedding, medical staff had another huge consideration: "We didn't want to interfere with patient care," Egbert said, since Whitney's mother is very sick.
Employees transformed the ICU waiting area into a reception room, complete with tables with red and white tablecloths, centerpiece decorations and fresh flowers.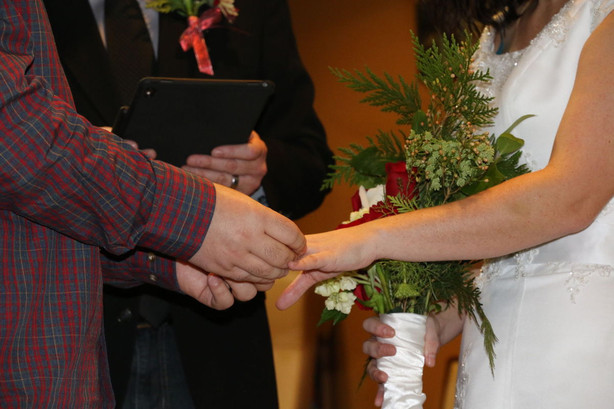 "It's pretty amazing what they were able to do in such a short amount of time," Egbert said.
Whitney did her makeup in a hospital bathroom before the wedding ceremony. When she walked into the waiting room — which had been turned into the reception room — she saw a "Mr. and Mrs." sign and burst into tears.
"I just started bawling," she said. "It was just so beautiful."
It didn't feel like an ICU waiting room. "It was like we weren't in the hospital for a moment," Egbert said.
As the wedding ceremony started, Whitney walked down a white aisle runner in the ICU hallway leading to her mother's room. About 20 to 30 guests — family members and friends — gathered just outside the room at the nurses' station watching, many in tears.
Whitney and Nathan picked out a couple of songs for their ceremony, including a hymn her mother used to play for her father. They also called in a pastor to perform the ceremony.
They prayed over Whitney's mother. "It was such a powerful thing," Whitney said.
She told her mother after the wedding they're planning to have a larger reception later, and she wants and expects to have her there. Whitney described her wedding day as "perfect." And she thinks her mother loved it, too.
Whitney grew up in Spokane, Wash., and her mother was a single parent for many years. She said her mother is the most important person in her life. She worked at a drug and alcohol recovery center for women, where she touched many lives and often received visits from those she helped.
Whitney's mother moved to the Magic Valley about a decade ago. She was diagnosed with cancer about a month after Whitney moved away to Virginia to start graduate school. She went through two rounds of chemotherapy at St. Luke's Mountain States Tumor Institute.
Whitney and her family members have been at the ICU with her mother, and they've been hearing a lot about end-of-life decisions.
"This morning was especially hard," she said Thursday afternoon. They had a family meeting scheduled that evening to weigh those decisions. "I just have this confidence and peace God can use this and heal her."
Nathan flew back to Virginia on Wednesday. He plans to return Tuesday to Twin Falls.
Whitney is staying by her mother's side in the ICU. Now, she and her family is asking for prayers. "We're believing for a miracle."
0 Pending Comments
Sorry, we are not accepting new comments on this story, but if you have more to contribute please email
newstip@ksl.com
Showing of 7 comments
Sorry, we are not accepting new comments on this story, but if you have more to contribute please email
newstip@ksl.com