LEHI — A third-grader whose bicycle was vandalized learned a lesson about human nature Friday — that caring people can turn a negative into a positive.
The student, Edson, accidentally left his bike overnight at Meadow Elementary School in Lehi. He showed up Thursday morning to find it had been demolished.
It appeared that someone had smashed the bike against the school's brick walls. The wheels were bent and the chain dangled from the frame.
"(Edson) looked at it and he didn't understand what had happened," said Principal Carolyn Johnson. "He came in several times yesterday, just wanting to look at it."
"He said, 'Well, it was really cold last night. I'm sure it was the cold.' We looked at him and said, 'I'm pretty sure it's not the cold,'" Johnson said.
Lehi Police officer Brian Crosby arrived at the school to take a report.
"First thing I (saw) was the bike in the front office, and I could tell there was no repairing the bike," he said.
A nearby surveillance camera didn't show much, according to Crosby, and police likely wouldn't be able to figure out who vandalized the bike.
However, the way Crosby sees it, the police's job doesn't stop there.
"All the officers on our team kind of have the same mentality of, 'We're going to give back some way,'" he explained.
So, several officers pitched in and raised about $70 for a new bike for Edson.
"Knocked on his door, he came out," Crosby recounted. "I said, 'I understand what happened at school today. We wanted to help you out. We got you something new.' He sat on it. He loved it. Yeah, it was cool."
School staff members also donated to get Edson a new helmet and bike lock.
Crosby said he became a police officer "kind of late in the game," after a career in accounting because he wanted to make a difference in the community. Now he knows he made the right career move.
"Stuff like this is what it's all about," Crosby said.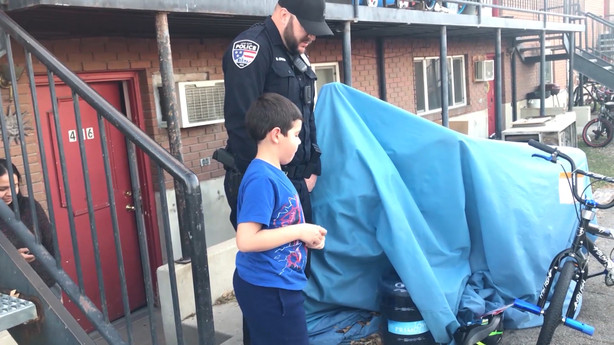 ---
All the officers on our team kind of have the same mentality of, 'We're going to give back some way.'
–Lehi Police officer Brian Crosby
---
Photos
0 Pending Comments
Sorry, we are not accepting new comments on this story, but if you have more to contribute please email
newstip@ksl.com
Showing of 15 comments
Sorry, we are not accepting new comments on this story, but if you have more to contribute please email
newstip@ksl.com