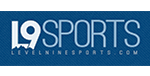 This story is sponsored by Level Nine Sports.
Want to share your love of skiing with your children or simply want to give your son or daughter a lifetime hobby or skill to enjoy? Teaching your children to ski is a gift they will enjoy for years to come, but making their first time on the ski hill a fun and positive experience is key if you want them to return to the mountain.
Read on for tips and tricks from Level Nine Sports professionals to prepare for a fun and enjoyable first ski trip and to help teach your children to learn to ski the right way.
1. Outfit kids in shorter skis
Having the right equipment will ensure your child is comfortable and prepared to have the best time possible on the mountain. Shorter skis are easier to control, so kids' skis should be shorter: chin height for young kids or even chest high for younger tykes. Avoid buying skis for kids to grow into; buy the right size and continue to use them as the child grows, and don't worry about ski poles until your child is more experienced.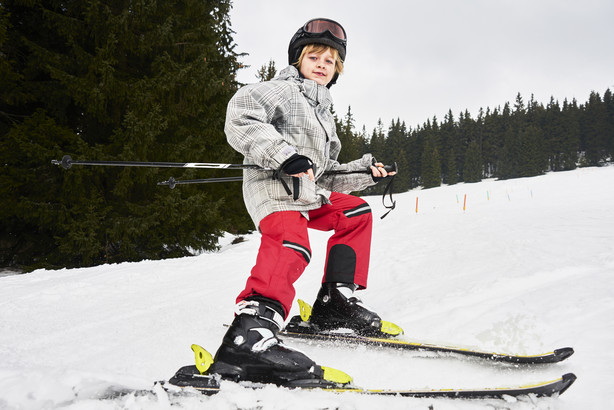 2. Warm and comfy boots
Ensure your kids' boots are warm and easy to put on before you head up the mountain. To accommodate your child's growing feet, consider adjustable boots that can extend to fit several sizes or buy a size up and have your kids wear double socks.
3. Protect your head
Helmets are absolutely essential for you and your child, plus they can help you stay warm.
4. Be prepared for sun and wind
Whether it's warm and sunny or snowing and windy, you will definitely want to provide sunglasses, or better yet, goggles, to protect your child from sun damage and/or wind.
5. Mittens instead of gloves
Mittens are warmer and easier to put on than gloves, so go with mittens for your little ones. If it's a chilly day, add some hand warmers.
6. Make it easy for you to help
Using ski boards or snowblades (extra short skis) will make it easier for you to ski backward and walk uphill to help your beginner children as they take their first few runs.
7. Opt for the best conditions possible
If you want to create a positive, memorable first day to teach your child to ski, it's worth it to wait for a warm, sunny day when snow is soft but not too powdery. Avoid a whiteout blizzard or icy conditions if you hope for your child to try skiing again. When you arrive on the mountain, find a flat area before tackling an incline so your child can get used to the feeling and movement of skis.
8. Play around in snow clothes first
Snow clothes can be bulky and difficult for small children to get used to. Avoid a tantrum about the bulky snow pants or helmet by encouraging kids to play in and get used to their snow clothes before a trip to the ski slopes.
9. Practice clicking in and out of bindings
Putting skis on and taking them off can be tricky. You'll likely need to help your children click into bindings while they learn, especially if they don't weigh enough to push in their boots themselves. Teach them simple steps of how to put skis on themselves: clean off caked snow; put the toe in first; push down the heel.
10. Remember: pizza, French fry and airplane
Basic ski technique can be summed up by your two favorite fast foods: pizza (putting ski tips together) to stop or snowplow and french fry (bringing skis parallel) to go. Teach your child to extend their arms in an "airplane" position for balance and to learn proper body position. Hold on to your child the entire first run from behind; afterward, you can try skiing backward close by to support and encourage your child.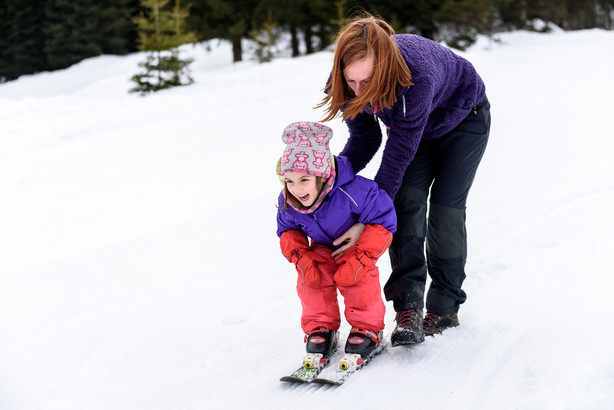 11. Consider a wedge or harness
If you're teaching a small child to ski, you likely won't regret buying a wedge or harness to help kids maintain a good body position and to control their speed. Both are easy to use and remove and can give your child extra confidence to ski down the big mountain.
12. Safe and easy chairlift rides
Getting on and off the chairlift can be a little intimidating for anyone, not just small children, but there are a few tricks for safe and smooth lift rides. Bunny hill lifts are usually slow, but never hesitate to ask the lift attendant to slow down the chair to give your child more time. Lift your children on to the chair, slide them all the way back and make sure to use the safety bar.
When it's time to get off, start a countdown so your children will know exactly when to get off and remind them to keep their ski tips up.
13. Walking and standing
It will be useful for your child to know how to walk uphill (turning sideways and stepping, or taking a wide stance and duck walking), and how to stand up after a fall. Teach kids to put their skis downhill and perpendicular to the slope and then push up using the edges of the skis. Keep practicing and remind them that falling down is just part of learning.
14. Consider ski lessons
If you don't know how to ski or think your child might respond better to an instructor, consider enrolling your child in ski school. While it can be expensive, experienced instructors may make the experience more fun and positive, and your children may enjoy skiing around kids their own age.
15. Be patient and have fun
Skiing together creates memories your child will always remember. Be patient, have fun and don't hesitate to have lots of hot chocolate and candy breaks.
Looking for more information or high-quality gear to prepare for your first family ski trip? Level Nine Sports is the best place to outfit your family with affordable, high-quality equipment and get tips and tricks from the professionals. Visit L9Sports.com or visit their locations in downtown Salt Lake City, Lehi, Orem, Millcreek or Ogden.
0 Pending Comments
Sorry, we are not accepting new comments on this story, but if you have more to contribute please email
newstip@ksl.com
Showing of 10 comments
Sorry, we are not accepting new comments on this story, but if you have more to contribute please email
newstip@ksl.com