HONOLULU, Hawaii — The BYU defense focused on stopping the run ahead of Saturday night's season finale at Hawaii, knowing Rainbow Warriors power back Diocomy Saint Juste was lining up on the other side.
The run game was also the focus of the BYU offense.
Squally Canada ran for 113 yards and two touchdowns on 17 carries in the first half, and Austin Kafentzis added a career-high 98 yards on 18 carries as BYU overpowered former WAC rival Hawaii for a 30-20 win in the season finale for both teams Saturday at Aloha Stadium.
"We got that run game going, which was huge," said BYU linebacker Fred Warner, who wrapped up his career with five tackles. "That's how we know that we're pretty dominant."
BYU out-rushed Hawaii 285-28 on the ground, with an additional 75 yards and a touchdown from Riley Burt. The Cougars held the Rainbow Warriors to 14 rushing yards through the first three quarters of play. It was an astounding similar game plan to the Cougars' win over UNLV two weeks ago.
"We could use that probably every week," BYU coach Kalani Sitake told KSL Newsradio after the game. "It would've given us a better chance of winning if we had done that every game. It's something to learn from."
Freshman quarterback Joe Critchlow completed 14-of-23 passes for 166 yards and a touchdown with no interceptions for BYU (4-9), which went 9-4 in Sitake's first season in 2016.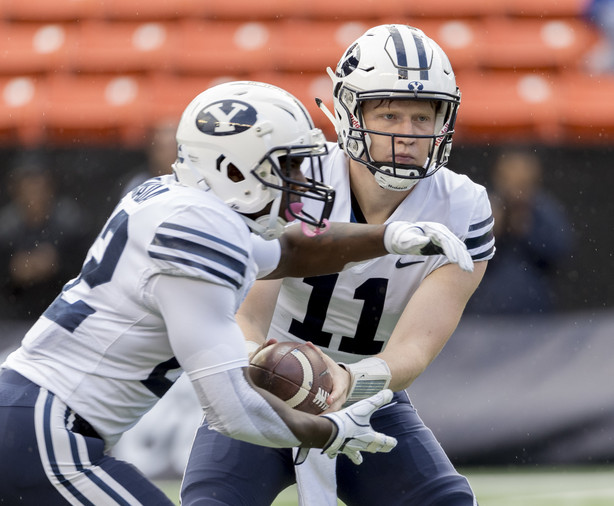 Sitake offered an assurance that changes were coming to the program after the Cougars' first sub-.500 season since 2004. Those changes begin with planning around a returning offense that includes every touchdown scorer in 2017 — and a win in the season finale.
"It's something we can build off. We wanted to send the seniors into the offseason," Sitake said. "We will start right away, with team meetings on Monday. We've got to use as much time as we can."
Hawaii running back Diocomy Saint Juste finished with 39 yards on 12 carries, setting a school record for most rushing yards in a single season in the loss. Saint Juste added 39 yards on nine catches, and Dru Brown threw for 258 yards and two touchdowns for the Rainbow Warriors.
Former BYU wide receiver Dylan Collie added 103 yards on six catches for Hawaii (3-9).
"We knew that Hawaii had a very good running back, and so we wanted to stop the run," Warner said. "We just had to make sure we got a push up front, then make sure we don't let up."
Canada capped off a five-play, 85-yard drive with a 40-yard touchdown run up the middle that gave the Cougars a 7-0 lead just two minutes into the game.
Solomon Matautia returned a turnover 42 yards for a touchdown as the Rainbow Warriors equalized at 7-7 with 4:42 left in the first quarter.
Critchlow converted a fourth-and-13 with an 18-yard strike to Jonah Trinnamann in the second quarter. The Cougars finished that drive with Canada's second touchdown run of the game, a 4-yard plunge with 11:31 left in the half.
Shortly after Canada was taken into the locker room for medical evaluation, Merrill Taliauli recovered a turnover in the second quarter that set up the Cougars' third touchdown with 1:34 left in the half. Corbin Kaufusi forced Hawaii quarterback Dru Brown to fumble the ball, and Taliauli returned the turnover 8 yards.
Rhett Almond missed a 26-yard field goal at the end of the half, and BYU took a 13-7 edge into the locker room.
With Canada down, BYU turned to Kafentzis as its workhorse running back. The redshirt sophomore paced an eight-play, 64-yard drive in the second half capped by Neil Pau'u's 11-yard touchdown grab with 1:39 left in the third to go up 20-7.
"I don't mind using our O-line as our strength, and hanging it on them," Sitake said. "I thought the D-line did the same thing on the defensive side."
Brown found Salt Lake City native Ammon Barker for a 15-yard score at the 12:23 mark of the fourth quarter, but Zayne Anderson blocked his first career PAT to keep the game at 20-13, and kickoff specialist Andrew Mikkelsen knocked down a 35-yard field goal on his first attempt of the season to give the Cougars a 23-13 lead on their next possession.
Burt exploded through the offensive line for an 11-yard touchdown to put the game out of reach, 30-13 with 3:46 remaining.
Brown found Kumoku Noa for a 3-yard TD strike with 1:48 to play for the Rainbow Warriors' final margin.
Photos
0 Pending Comments
Sorry, we are not accepting new comments on this story, but if you have more to contribute please email
newstip@ksl.com
Showing of 47 comments
Sorry, we are not accepting new comments on this story, but if you have more to contribute please email
newstip@ksl.com