OGDEN — Weber State's feel-good football season was extended another week after the Wildcats defeated the Western Illinois Leathernecks 21-19 in the school's first home playoff game at Stewart Stadium on Saturday.
Despite being outgained in yards 318 to 296 and registering six fewer first downs, the Wildcats (10-2, 6-1) defeated the road-warrior Leathernecks (8-4, 5-3), who entered the game with a nation-best six road wins, in front of an announced crowd of 6,876.
"This is for sure, arguably now the best team in Weber State history," head coach Jay Hill said following the game. "But we're not done. It would be disappointing if we ended it like this right now.
"We've got to go play one heck of a game on Saturday."
With the win, Weber State will advance to the second round of the playoffs where they will face in-state and Big Sky rival Southern Utah at Eccles Coliseum in Cedar City on December 2 at 6 p.m. MT. The Thunderbirds bested the Wildcats 32-16 at Stewart Stadium when the co-Big Sky champions faced earlier in the season.
For the Wildcats, the forthcoming rematch represents an opportunity to exact some revenge when it really counts. In the original matchup, Weber State, which finished the game without quarterback Stefan Cantwell after the South Jordan native sustained a concussion in the first half, managed just 250 yards of total offense in addition to committing two turnovers.
"Quite frankly, we didn't play very good last time we had an opportunity with them here," Hill said, before adding that he was pleased to have drawn Western Illinois as a first round opponent because of the way it "sharpened" his team for their next opponent.
"This is what we've wanted for the last six weeks — is to work our way back into this game," he said.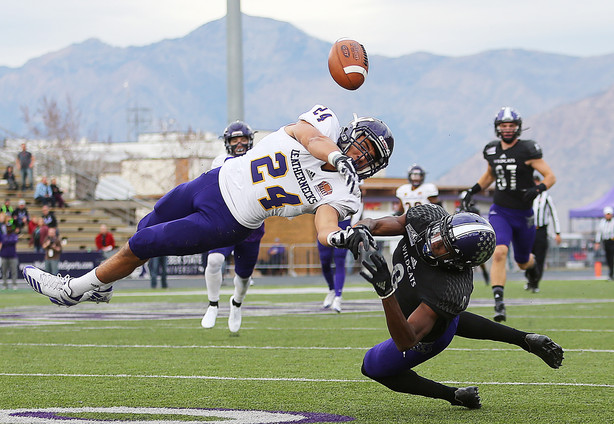 Weber State won behind an impressive defensive effort that saw it hold Western Illinois' 13th-ranked scoring offense to 16 points below its season average (35.3), while forcing two turnovers and generating four sacks.
Safety Jordan Preator led the defense with eleven tackles, including one for loss, while Big Sky Defensive Player of the Year Taron Johnson recorded nine tackles of his own. Xequille Harry registered his fourth interception of the season, and Cardon Malan forced a fumble in the fourth quarter that was ultimately recovered by Filipe Sitake.
"What Weber State does well is they force your hand, they don't give you a lot of easy plays," Western Illinois head coach Charlie Fisher said of the Wildcats' defense after the game. "And that's what great defenses do. They were in a lot of double-eagle today, so they covered everybody up and made running the ball much more difficult in between the tackles — where we like to run the ball. And then they're going to play man coverage and challenge you. They're not going to give you any freebies."
After falling behind 3-0 in the opening frame, the second quarter belonged to Weber State, which outgained Western Illinois' offense through the air 118 to 29 in the second quarter.
Weber State started fast by scoring the game's first touchdown — a 33-yard moonball from Cantwell to a wide-open Drew Batchelor who managed to get a foot down in the back of the endzone with 13:45 remaining in the first half.
On the ensuing drive, the Wildcats looked to be in prime position to open a two-score advantage as Harry intercepted Western Illinois quarterback Sean McGuire's errant pass along the right sideline. But Weber State failed to do anything with the extra possession, and gave the ball back to Western Illinois at the Wildcat 32-yard line after dropping a sure first down on a fake-punt pass on fourth down. Three plays later, Western Illinois' Sam Crosa converted a 45-yard field goal to bring the Leathernecks within one point of the Wildcats.
Weber State answered on its next drive after all-conference tight end Andrew Vollert caught a deep ball with one hand — to which Hill joked his tight end was "showing off" — for a 50-yard gain to set up the Wildcats at the Leathernecks' 3-yard line.
"Stefan threw a perfect ball, hit me right in stride" Vollert said of the play, before joking, "Probably would have been SportsCenter Top 10 if I would have scored. Got caught with that tight end speed."
The Wildcats would score one play later, with Batchelor catching his second touchdown of the day in the front right corner of the endzone to complete an eight-play, 75-yard drive and extend Weber State's lead to eight heading into halftime.
The game tightened late in the third quarter following back-to-back Wildcat penalties that led to Western Illinois' first touchdown of the game — a 7-yard run by Clint Ratkovich that cut Weber State's eight point lead to two with 35 seconds remaining in the quarter. With a chance for a tying score, Western Illinois attempted a two-point conversion on the ensuing play, but saw their pass fall incomplete.
Weber State responded with a scoring drive of its own on the ensuing possession. After concurrent 15 yard penalties (roughing the passer and unsportsmanlike conduct) moved the Wildcats 30 yards to the Western Illinois 21-yard line, Cantwell hit his favorite target, Vollert, on first down on a slant-and-go route for a touchdown along the left endzone boundary to extend the lead to 9 with 12:13 remaining.
"We saw what we liked and we took a shot," said Cantwell, who completed 18-of-27 passes to finish the game with 186 passing yards and three touchdowns. "We always call shots on good downs when it's a high likelihood that we're going to get it."
McGuire would hit Tyler Slamans for an 18-yard touchdown to bring the Leathernecks back within two points of the lead with 4:55 remaining, though it would prove too little too late, as they never possessed the ball again. On Weber State's final drive, the Wildcats put on a clinic with how to run a four-minute offense by chewing the remaining clock with a 10-play parade that included two much-needed conversions on third down.
"Coaches put us in good situations with good play calls," Cantwell said. "It was just up to us to execute it. You could tell that there was more excitement on that drive. Because as an offense, we could go down and win the game or leave it up to our defense. So we're really happy about our team and being able to put it together on that last drive."
Photos
Related Stories
0 Pending Comments
Sorry, we are not accepting new comments on this story, but if you have more to contribute please email
newstip@ksl.com
Showing of 29 comments
Sorry, we are not accepting new comments on this story, but if you have more to contribute please email
newstip@ksl.com