OGDEN — In the first season of the Jay Hill era at Weber State, the Wildcats finished 2-10.
But then-freshman cornerback Taron Johnson remembers Hill and the coaching staff telling him three words, made famous by the likes of Nick Saban and Joel Embiid.
Trust the process.
The next year, the Wildcats made improvements, but still went 6-5.
Again, trust the process.
In Year 3, Weber State finished 7-5, including the Wildcats' first berth in the FCS playoffs since 2009. But the Wildcats lost 45-14 at Chattanooga, and Hill — once again — repeated the refrain to Johnson.
Trust the process.
And now as a senior in 2017, the 6-foot cornerback from Sacramento, California, repeats the refrain to his younger teammates as they prepare to host the first FCS playoff game in school history Saturday at 2 p.m.
"We bought into what coach Hill was saying," said Johnson, the Big Sky's defensive most valuable player who racked up three interceptions. "He started from scratch, and we came together as a team the last four years."
Weber State (9-2) doesn't have a lengthy history of success. In a conference that has been dominated by schools from Montana to Eastern Washington, Johnson is just the fourth Big Sky defensive MVP in Wildcat history, and the first since 2004. Senior tight end Andrew Vollert was also a unanimous first-team all-conference selection, and Iousa Opeta, Trey Tuttle, Rasheed Shahid, McKay Murphy, Legrand Toia and Brady May were also selected to the all-Big Sky first team — the most nominees of any school in the conference.
Now Johnson and the Wildcats will host Western Illinois in an FCS playoff game Saturday at 2 p.m. at Stewart Stadium in Ogden. The winner of the game, which will be broadcast on ESPN3, will travel to co-Big Sky champ Southern Utah, which beat Weber 32-16 a month ago, in next weekend's second round.
But Weber State isn't happy just getting to this point.
"I think the players are very excited about the Big Sky championship, and some of the things that we have accomplished," Hill told KSL Sports after practice this week. "But I think they are aware that we better not be content. We've got a lot of other big fish to fry, and a really good opponent coming in here that we've got to take care of."
Make no mistake: the Wildcats want to be more than just another team that "got there" to the 24-team playoffs. The winner of the three-team pod that runs through Cedar City will likely advance to face reigning national champion James Madison in the quarterfinals Dec. 8.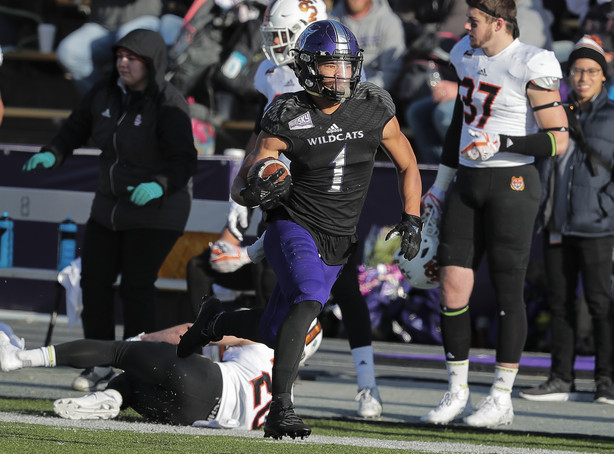 "Last year, we were too content in getting into the playoffs," Johnson said. "This year, we're focused on something bigger than just getting there. We're focused on winning a championship."
First up is Western Illinois.
The Leathernecks (8-3) finished fourth in the Missouri Valley Football Conference, and are led by quarterback Sean McGuire, who has thrown for 2,650 yards and 24 touchdowns. They've scored 40 or more points four times this season, one more than the Wildcats.
"In my opinion, they are a lot like us — they play really good defense, their offense is very sound, the quarterback is very efficient. They don't turn the ball over. It's a very well-rounded team that reminds me a lot of us," Hill said.
Make no mistake: Saturday's game is a big deal — for Hill, for the Wildcats, and for the city of Ogden. It's even bigger after the two-win season that started Hill's tenure following a decade as an assistant coach at Utah.
"To know where we started and where we are at now is a big deal," Hill said. "It's a big deal for (the players), it's a big deal for me, and I'm glad that they get the opportunity to see that if they work hard on and off the field, then good things happen."
Is that … contentment?
Not at all.
"We cannot be content," Johnson said. "We've got to strive for more. We're not just looking to play this game. We're looking to win."
Photos
Related Stories
0 Pending Comments
Sorry, we are not accepting new comments on this story, but if you have more to contribute please email
newstip@ksl.com
Showing of 17 comments
Sorry, we are not accepting new comments on this story, but if you have more to contribute please email
newstip@ksl.com