SALT LAKE CITY — If you've ever felt a little out of place, lost or alone, a little guy in a pasture off Highway 111 can relate.
A creature that doesn't fit in has been catching the eye of neighbors Melissa and Dan McCorkle and many others driving past.
"Initially, the horses didn't like him around. They'd chase him off," said Melissa McCorkle. Her husband, Dan McCorkle said, "He's curious. He's the most curious little guy. He just can't help himself."
But the stranger found a tribe, a squad, a family of his own. The pronghorn showed up last spring and has been there six months. Its Latin name means "goat-antelope."
It's not a member of either family, but an indigenous species all its own.
"The herd disappeared," Melissa McCorkle said. No one knows how he got in with these domestic horses. In the wild, where water is limited, horses and pronghorn compete. Wildlife experts have never heard of a herd adopting a pronghorn before.
"He's tiny compared to the horses. He's like a third of their size," Dan McCorkle said.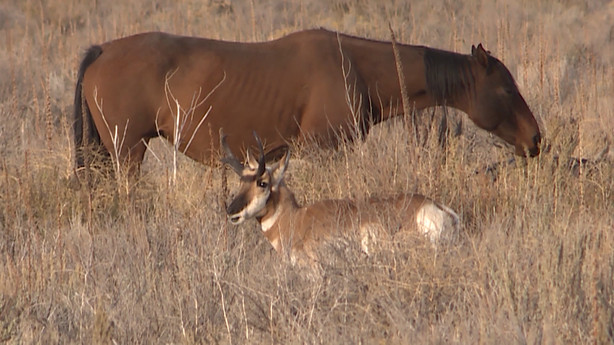 But pronghorn rarely jump fences.
"After a period of a couple months, a month or so, they just started to tolerate him, I guess," Melissa McCorkle said. "He just kind of worked himself in there. They (pronghorn) just want to be a part of the herd. They don't want to be alone, so the horses know he's just part of the herd."
There have been some awkward moments.
"You bring up that new colt and its mom and he wasn't sure what that was, but he thought it was a wife a little while," Dan McCorkle said.
But like any blended family, they're making it work. So well that people are starting wonder even if he could be with his old herd, would he? Or stay in the pasture, his adopted home on the range.


Photos
0 Pending Comments
Sorry, we are not accepting new comments on this story, but if you have more to contribute please email
newstip@ksl.com
Showing of 27 comments
Sorry, we are not accepting new comments on this story, but if you have more to contribute please email
newstip@ksl.com