LAS VEGAS — The BYU football team was wounded heading into its antepenultimate game of the season last Friday night at UNLV.
Staring at a disappointing 2-8 record, down starting quarterback Tanner Mangum, and with 36 players who have missed time with injuries, the Cougars needed something good to happen to revitalize their hopes for the future.
Enter Joe Critchlow, with a major assist from Squally Canada.
The true freshman quarterback completed 14-of-22 passes for 160 yards and a touchdown, and Canada ran for a career-high 213 yards and a score in the Cougars' 31-21 win over the Rebels that provided a flash of relief in a season mostly devoid of happy moments.
"Winning can heal a lot of wounds, and right now we were wounded," BYU head coach Kalani Sitake said. "We had some problems. We're just trying to get wins, and I think this is the next step. I'm really proud of the way the guys have played, but the effort has been there all year long."
BYU (3-8) now faces the final two games of the season — including Saturday's home finale against UMass at 1 p.m. MT (BYUtv/KSL Newsradio) — with a renewed sense of optimism.
Whether Critchlow is the quarterback of the future, or even the quarterback of the present, Sitake said he deserves more opportunities to prove himself to his team.
"He didn't give the game away, didn't throw any picks, and he put the ball in some spots where our guys could catch it," Sitake said. "He showed a lot of poise in the pocket. There were times where guys were coming at him, and he was able to drift back, lose some ground, and gain more time. I can't believe this guy has grown a lot over the last couple of months."
No one is accusing BYU of being world-beaters after a win over a 4-6 UNLV team that now must sweep its final two road opponents at New Mexico and Nevada to become bowl eligible for the first time since 2013. But for the moment, the fire is out. The outside noise is a little bit quieter. The results have quelled a rising storm of disappointment and frustration from around the program.
BYU won a football game, and it did so in unfavorable circumstances. The Rebels opened as 5.5-point favorites at most Las Vegas sportsbooks, a line that slowly crept down during the week.
Still, even by Friday night's kickoff, UNLV held the slimmest of margins — a veritable "pick-em" in favor of the home team — as bettors put money on BYU covering the spread despite only two previous wins at home against FCS Portland State and San Jose State.
The Cougars struck first through Brayden El-Bakri's short touchdown run in the second quarter, and never trailed in the game. UNLV tied it once early, but BYU pulled away 21-7 on the first drive of the second half and sealed the win on former Jordan High School star quarterback Austin Kafentzis' first career touchdown at running back in the third quarter.
Speaking of the run game, the Cougars piled up 265 yards and three scores on the ground, helping their freshly minted starting quarterback just six months removed from knocking doors in Montreal, Quebec, as an LDS missionary to get settled into the contest.
"I maybe had a little bit of nerves," Critchlow said. "But once our running game was clicking and we started getting chunks, it made the passing game easier. Our offense really started clicking."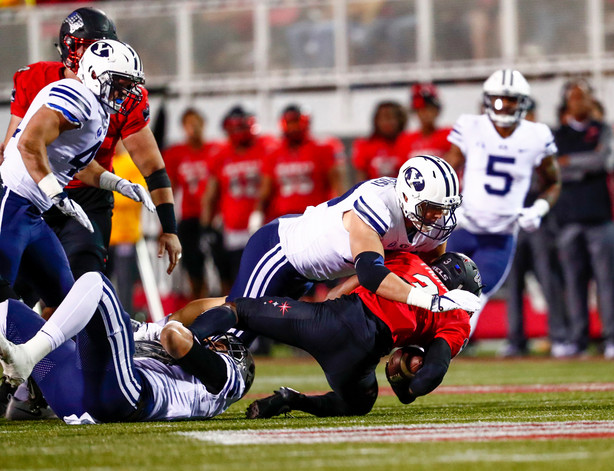 It's hard not to feel the enthusiasm and optimism from a quarterback freshly removed from a two-year mission for the LDS Church. Was the Franklin, Tennessee, native who originally signed with Southern Utah perfect? No — but he shouldn't be expected as such.
But Critchlow shows improvement is possible at BYU, and other examples from around the nation can give Cougar fans an idea that dark times don't last forever.
Last year, Notre Dame was 4-8 before orchestrating a 2017 turnaround that has them at 8-2 and in the Top 10 nationally.
Michigan State finished 2016 at 3-9, but turned around and now sits at 7-3 and in contention for a Big Ten East title.
Central Florida, the non-Power 5 darling of the season, was 0-12 two years ago under former head coach George O'Leary. Now, the Knights are 9-0 with wins over Michigan, Maryland and Navy, primed for a New Year's Six bowl invitation in a few weeks.
Improvement is possible, even for a BYU team whose misery in 2017 hearkened back to the pre-LaVell Edwards days of 1968.
"We definitely won tonight, but there are a lot of opportunities that I can learn from," Critchlow said. "This is my first start, but I hope to have a lot more time here to improve on it and continue to get better and better."
Related Stories
0 Pending Comments
Sorry, we are not accepting new comments on this story, but if you have more to contribute please email
newstip@ksl.com
Showing of 43 comments
Sorry, we are not accepting new comments on this story, but if you have more to contribute please email
newstip@ksl.com