PROVO — BYU junior guard Nick Emery was already set to miss an indefinite amount of time while the Cougars worked with the NCAA regarding allegations of improper benefits.
He won't return during the 2017-18 season.
The team announced late Friday afternoon that Emery has withdrawn from school for personal reasons, according to a statement. Emery, who publicly stated he has recently gone through a divorce, said he plans to return to BYU after the season.
"Unfortunately, I am mentally not where I need to be in order to perform in basketball and in school this year," Emery said in a statement from the team. "As it has been made known, I went through a divorce this year and it has been really difficult for me.
"I have confidence that I will come back stronger and better. I have every intention on coming back to BYU and representing Cougar nation on the basketball floor. I thank everyone for their love and support, especially my teammates, coaches and the BYU administration that have been an incredible support system."
The 6-foot-2, 185-pound guard from Alpine maintains one season of redshirt eligibility with the Cougars that he can use during the 2017-18 season.
Emery averaged 13.1 points, 3.0 rebounds and 2.4 assists as a sophomore in 2016-17, when he was named a team captain by the Cougars. The former Lone Peak High standout played two seasons at BYU following a two-year mission for the LDS Church in Germany, and married his wife Sarah in April 2016, according to social media event posts for the reception.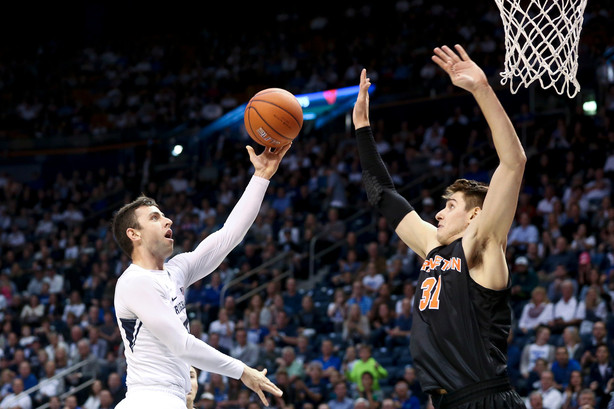 As a freshman in 2015-16, Emery averaged 16.3 points and 3.5 rebounds per game en route to All-WCC Freshman honors while leading the Cougars to the semifinals of the second-tier National Invitation Tournament at the end of the season.
After becoming the fourth player in BYU history to score more than 1,000 career points in two seasons, Emery was placed under investigation by the university's compliance department and the NCAA for alleged improper benefits relating to a BYU booster's involvement in paying for a trip to Disneyland, cars and concert tickets, according to a report first issued by The Salt Lake Tribune.
Emery played sparingly in exhibition games against New Mexico and Division II Westminster for the Cougars, and did not play Wednesday night in BYU's exhibition finale against Division III Colorado College.
BYU coach Dave Rose said at the time he was anticipating Emery being out indefinitely as "part of the plan" while the NCAA investigation worked its course, though he remained optimistic in Emery's return at some point during the season.
The school said in a statement that the investigation continues amid Emery's withdrawal.
"Nick's personal well-being is my number one concern right now," Rose said in a statement. "He's going through a very difficult time, and we've had a lot of discussions about what he needs to do to be able to move forward.
"We both feel like the best thing for him is to take time off before continuing with his basketball career. As coaches and his teammates, we want what is best for Nick, and we know he has a great family that will help him navigate this difficult time. We look forward to welcoming him back at BYU soon."
Emery's teammates took to social media after news of the investigation spread to voice support for their teammate, posting pictures to Twitter and Instagram of each player surrounding Emery, who wore a royal blue practice jersey while the rest of the team donned gray warmups.
"All for one, one for all," each post read, followed by the hashtag #brotherhood.
The Cougars open the regular season Saturday against Mississippi Valley State. Tipoff is scheduled for 7 p.m. MT.
Related Stories
0 Pending Comments
Sorry, we are not accepting new comments on this story, but if you have more to contribute please email
newstip@ksl.com
Showing of 37 comments
Sorry, we are not accepting new comments on this story, but if you have more to contribute please email
newstip@ksl.com