SALT LAKE CITY — After struggling to a 3-6 record in the state's highest classification in 2016, Mountain Crest began the climb back to the top with a move to Class 4A.
The Mustangs are almost there.
Nick Nethercott caught four passes for 99 yards and a touchdown, and the Mustangs did all their scoring in the first half to hold off Stansbury 17-7 in a 4A state semifinal Thursday night at Rice-Eccles Stadium.
"It's a total 180," Nethercott said after the game. "Last year, we went 3-6 and this year we're at 12-1. It's huge. We haven't been here since 2012, and for Mountain Crest as a whole, it's been fun.
"We saw the best players (last year in 5A), and coming down to this classification, we knew we had seen the best. We can play with the best, and that gave us a lot of confidence."
Brady Hall completed 10-of-15 passes for 139 yards and a score, and Beau Robinson rushd for 117 yards and a touchdown for Mountain Crest (12-1), which orchestrated its turnaround thanks to a move to a more competitive classification and a 2017 senior class that took the struggles from one year and turned them into a success a season later.
"We're to that point, but we're not satisfied," Mountain Crest coach Jason Lee said. "The kids understand that; we didn't come just to play in next week's game. They came to win. We've got a lot to prepare for with two outstanding teams, but Stansbury is an outstanding team, and my kids are outstanding, too."
Mitch Lindsay threw for 120 yards and ran for 77 more for Stansbury (8-4), and teammate Tavita Gagnier ran for 48 yards and a touchdown against a team to which it lost 52-19 in Week 4 of the regular season.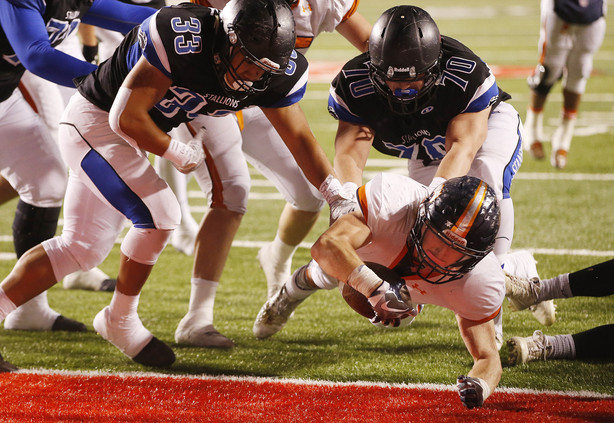 "These kids have battled for the last two years. They've been underdogs the whole way and they'll be underdogs next week," Lee said. "We don't care. That's their mentality. We love to play tough games, and these kids have worked as hard as anybody I've ever been around. They don't quit — they keep fighting. They're going to be prepared."
The Mustangs struck quickly, marching down the field on their opening drive and taking a 7-0 lead on Brady Hall's 30-yard TD strike to Nick Nethercott with 6:45 left in the first quarter.
Mountain Crest forced three fumbles in the first half, recovering two but only scored three points off turnovers.
"We just had to be physical," said Nethercott, whose team forced three turnovers. "It starts up front without lineman; they're a bunch of studs. Getting in and forcing those turnovers is definitely a big momentum shift."
Beau Robinson scored on a second-quarter 3-yard touchdown plunge to give the Mustangs a 17-0 halftime advantage.
"When they aren't putting points on the board and we are, it's a lot of fun," Nethercott said. "We couldn't have dreamed of a better start, really. What more can you ask for than to be up 17-0? Credit to Stansbury; they fought in the second half. But we got the win."
Gagnier capped Stansbury's opening drive of the second half with a 5-yard touchdown scamper that pulled the Stallions within 17-7 at the 7:32 mark of the third quarter.
Stansbury recovered a fumble on the Mustangs' ensuing offensive possession, but also turned the ball over three times and missed a second-half field goal that would've cut the deficit to a touchdown at the end of the third quarter.
"We had that next turnover, put them on the short side of the field, and our kids dug in," Lee said. "We held them on fourth downs and we bent — but we didn't break. In the end, that's what matters.
"It doesn't matter how you win now."
The Mustangs advance to the 4A state championship, where they will face the winner of Sky View and Orem next Friday at Rice-Eccles Stadium.
"We'll take whomever," Nethercott said. "But I'm not going to lie, we definitely want to play Sky View again after they roughed us up last time."
Photos
0 Pending Comments
Sorry, we are not accepting new comments on this story, but if you have more to contribute please email
newstip@ksl.com
Showing of 0 comments