SALT LAKE CITY — The last time Springville faced Lehi in the 2017 high school football season, the Red Devils grinded out an 18-15 road win on Sept. 8.
That game did not feature tight end Dallin Holker, who has committed to BYU, and Washington State quarterback commit Cammon Cooper didn't throw a touchdown pass and only ran for two.
Holker was back Thursday afternoon at Rice-Eccles Stadium — and the Red Devils took note.
Holker caught nine passes for 85 yards and three touchdowns — and recovered an onside kick to open the second half, for good measure — while Cooper threw for 330 yards and five touchdowns to lift the Pioneers to a 41-21 win over Springville and set up an all-city Class 5A championship next Friday at 6:30 p.m. MT.
"The last two years, we've lost to those guys in the regular season and this year we had a few guys out (in the first meet)," said Holker, who missed the first game entirely. "This game meant so much to us, to come out and play hard."
Carson Manookin led all rushers with 163 yards, while adding a 9-yard touchdown pass to seal the win, and Kade Moore caught eight passes for 117 yards and a score for the Pioneers (11-2).
"Coming from the last game, we struggled on offense," Cooper said. "We made some changes, and it showed on the scoreboard. Everyone did their job, especially the defense in the second half.
"We stayed strong on offense, and rolled in the game."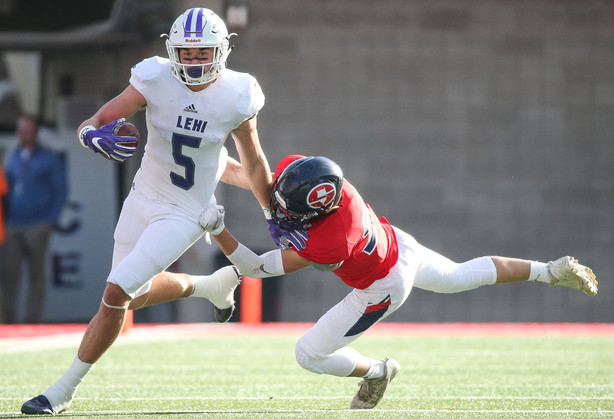 Ty Eriksson completed just five passes for 227 yards and a touchdown with one interception, and Cole Bowers ran for 112 yards and two touchdowns to lead Springville (9-4), which advanced to the state semifinals for the third-straight year.
Bowers also led all defenders with 14 tackles.
Lehi opened the scoring quick, finishing off its opening drive in less than two minutes with Lincoln Bunker's 2-yard TD plunge to take a 7-0 lead.
But the Red Devils answered immediately. Eriksson hit Sean Holloway on Springville's first offensive play from scrimmage, and the senior wideout cruised 75 yards into the end zone for a 7-7 draw with 9:57 left in the first quarter — and the shootout looked inevitable.
Cooper hit Holker with a 6-yard strike for the BYU-bound tight end's second touchdown of the game, giving the Pioneers a 27-14 lead with 1:33 left in the first quarter.
"Our biggest issue coming in was this was Springville's third year in a row here, and this was our defense's first," said Lehi coach Ed Larson. "I was always wondering what this environment would do. Maybe our defensive side just wasn't quite ready for the game."
Bowers broke five tackles on a 30-yard touchdown run to pull the Red Devils within 27-21 with his second touchdown run at the 1:07 mark of the first quarter.
"That was a crazy game. Both offenses came out scoring back and forth, and I knew they were more of a defensive team," Holker said. "They did a good job coming out, but we kept firing back."
The game slowed down in the second quarter, but Holker hauled in a 6-yard strike for his third touchdown of the half from Cooper to give the Pioneers a 34-21 lead with 4:13 remaining in the half.
The defense also showed up.
After Bowers' 72-yard touchdown catch brought the Red Devils within eight yards of another score, the Pioneers blocked a 33-yard field goal attempt to take a 34-21 lead into halftime.
Related Story
After Holker recovered an onside kick attempt to open the second half, Cooper found the other tight end — Kyler Welsh — with a 9-yard TD strike to go up 41-21 on the opening drive of the half.
"Sometimes the ball just needs to bounce our way," Larson said. "I felt like our inability at the end of the third to make anything happen offensively kept them in it, too. We'll talk about that and try to make our offense know how to put things away.
"The way they hit us so quickly in the first half, I was scared they would make it back to a one-touchdown game."
On Springville's ensuing possession, Lehi's Will Overstreet intercepted Eriksson's pass in the endzone and the Pioneers added a goal-line stand midway through the fourth quarter to ease into the state championship game with a local Lehi derby against Skyridge, which upset top-ranked Corner Canyon 34-33 in the first semifinal.
"You win games because your defense can stop people; there's no question," Larson said. "You ability to call an offense is better when you have some relief there.
"The ability to make some adjustments really helped us."
Just two years after Skyridge opened the second school in the Lehi city limits, both schools will face off for a state championship.
"They haven't played us in any varsity sport, so it'll be awesome. We beat them in the 4x100 (relay in track and field), but that's it, so it will be a crazy game," Cooper said. "The senior class, we were together as sophomores. It'll be a fun game."
Photos
Related Stories
0 Pending Comments
Sorry, we are not accepting new comments on this story, but if you have more to contribute please email
newstip@ksl.com
Showing of 1 comments
Sorry, we are not accepting new comments on this story, but if you have more to contribute please email
newstip@ksl.com