SALT LAKE CITY — It took some last-minute theatrics, but second-year Skyridge earned its first 5A title bid after defeating the higher-seeded Corner Canyon 34-33 Thursday afternoon.
With under 2 minutes to play and down 6 points, the Skyridge Falcons had 69 yards in front of them to claim the upset victory. But junior quarterback Jayden Clemons never doubted and orchestrated a two-play, 69-yard drive that was capped off by a 23-yard touchdown pass to junior Nathan Upham to take a 1-point lead and the win.
The drive began with a 46-yard fingertip catch by Upham to put the Falcons in scoring territory in a game-changing play. Upham followed it up with a one-handed catch in the corner of the end zone for what would be the game's winning score.
"It wasn't always pretty, but they scored when it counted," said first-year Skyridge head coach Jon Lehman.
"We just knew that we had to take a shot," Upham said. "We had to go down the field and score quick and we had to really trust our defense."
The Chargers had just over a minute to reclaim its lead, but a botched snap on a long field goal attempt sealed Corner Canyon's fate and barely missing out on the chance to appear in its first championship game.
"I believe we have one of the best defenses in the state," Clemons said. "And I trust them on every single drive and in any situation."
Lehman said he never doubted his defense in the final drive and was confident they'd keep the lead and the win as the team dialed up its pressure against the Chargers.
"We started sending more pressure, more backers. And then you know at some point our guys were just on one-on-one matchups and that's what it takes," Lehman said. "We decided that the risk was worth it and we would send more pressure and play a little bit of man coverage and it was all good."
Corner Canyon jumped to an early lead and momentum with two touchdowns in the first quarter — a 40-yard touchdown pass from senior quarterback Zach Wilson to senior Jon Mitchell and then a 13-yard rushing touchdown by Wilson on a long scrambling play. The Falcons would strike first in the second quarter on a 7-yard passing touchdown to Jarius Satiu.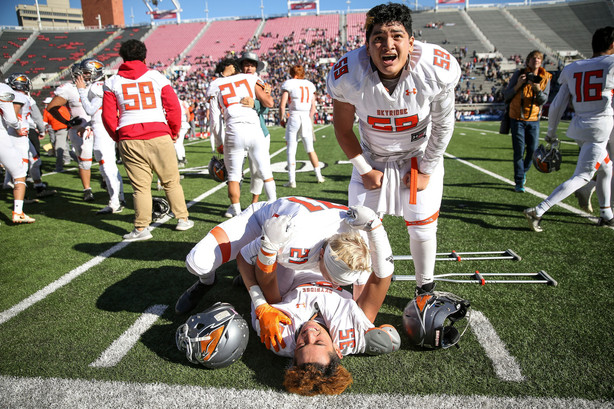 The Falcons looked outmatched in the second quarter when the Chargers forced a fumble that was recovered by Blake Emery for a 60-yard touchdown. On the ensuing drive, Emery picked off Clemons for a 25-yard touchdown to take a commanding lead.
"Those are big plays, statistically," Lehman said. "If you give up one defensive touchdown in a game, your odds of losing are high. If you give up two, they're really high. So those are plays that really could make you crumble as a team. But we just keep fighting."
Clemons would shake off the turnovers and would connect with senior Colby Samuels for a 54-yard touchdown with just under a minute left in the half to give the Falcons some life before heading into the locker room.
Skyridge jumped out to a strong start in the second half when sophomore Tanner Shelton picked off Wilson deep inside Corner Canyon territory. The turnover set up an 8-yard rushing touchdown by senior Alex Palmer to cut the Chargers lead to 6. The Falcons would score again late in the third quarter on a 54-yard touchdown pass to Palmer to give Skyridge its first lead of the game.
Corner Canyon would answer early in the fourth quarter on a 14-yard swing pass for a touchdown to Tai Gonzales, but it wasn't enough to keep the Falcons at bay.
The Chargers are 0-2 against the Falcons in the two years that Skyridge has been a school. Skyridge beat Corner Canyon during the regular season last year on a made field goal.
Skyridge will play the winner of the Lehi-Springville matchup.
Photos
0 Pending Comments
Sorry, we are not accepting new comments on this story, but if you have more to contribute please email
newstip@ksl.com
Showing of 3 comments
Sorry, we are not accepting new comments on this story, but if you have more to contribute please email
newstip@ksl.com