MILFORD — Every high school football team in America opens the season hoping to compete for a state title.
Only 12 teams in Utah's three largest classifications are still eligible in the Beehive State, and only six teams remain in the state's smaller classifications.
But for Milford, which will face defending champ Duchesne in the Class 1A state championship at 1:30 p.m. Saturday at Southern Utah University, the season has already been successful—even historic.
"This is the first time in Milford High School history that we've won double-digit football games," Milford coach Thane Marshall said after the school's 38-20 semifinal win over Kanab. "These kids have been working for this for four years, working their tails off. We set a goal for a home playoff game and get to the state championship—and then win it. We're on track so far."
The Tigers (10-1) might be considered underdogs to the Eagles (10-1), who will be aiming for a sixth state title since 2010.
But Milford isn't scared, even as the Tigers make their deepest playoff run since the turn of the century. They are led by standout running back/defensive back Ty Netto, a converted quarterback who has run for 926 yards and 16 touchdowns, and wide receiver Stetson Wright, a rodeo star on the national level who has moonlighted his way to 683 receiving yards and three touchdowns.
The Tigers also employ an exciting, nontraditional spread offense led by Bryson Barnes (2,644 passing yards, 27 touchdowns, four interceptions) that has taken a large-school mentality to a town with a population of just over 1,300 people—most of whom travel up and down the Wasatch Front to follow the Tigers.
"You go around town, and everyone is talking about the Friday night game," Netto said. "This is really good; it feels amazing."
Here's a quick look at the rest of the weekend's high school football postseason matchups.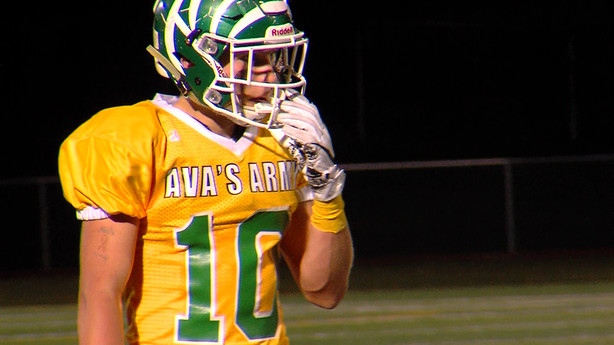 2A championship
South Summit (11-0) vs Beaver (10-1)
The 2A championship game comes down to the Wildcats and the Beavers for the third-straight year, cementing a rivalry that has blossomed in a rubber-match title contest at 11 a.m. at Southern Utah University.
While the Beavers are the two-time defending champs, undefeated South Summit has been on a tear, scoring 40.0 points per game and defeating Beaver 30-7 in Week 4 of the season in Kamas.
Expect this one to be much closer.
3A championship
Morgan (9-2) vs Juan Diego (10-2)
The only championship of the season to be played at Weber State University (2 p.m. Saturday) will pit the reigning champion Soaring Eagle against an upstart challenger brimming with confidence.
Morgan has not lost to a team in Class 3A and is led by standout running back Bridger Miller, an 800-yard rusher who ran for 119 yards and two touchdowns in a 34-18 semifinal win over Juab.
Juan Diego, which won a pair of one-point playoff contests already, is led by dual-threat quarterback Zach Hoffman, who has thrown for 800 yards and five touchdowns and ran for 1,037 yards and 17 scores. Tristen Tonozzi adds another 1,063 yards on the ground with 12 touchdowns for the Soaring Eagle, which won last year's 3A state.
4A semifinals
Mountain Crest (11-1) vs. Stansbury (8-3)
Thursday, 6 p.m. at Rice-Eccles Stadium
In a rare occurrence, the classification formally known as 3AA will not feature a team from Region 9 or the St. George area.
Led by dual-threat quarterback Brady Hall, who has thrown for 2,727 yards and 29 touchdowns with another 776 yards and nine scores on the ground, the Mustangs dispatched 4A favorite Dixie in the state quarterfinals in St. George.
Things don't get easier against Stansbury, which is led by Silas Young (184 carries, 1,343 yards, 21 TDs) and quarterback Mitch Lindsay (957 yards, nine TDs, five interceptions).
Orem (10-2) vs. Sky View (11-0)
Friday, 6 p.m. at Rice-Eccles Stadium
Jackson Siddoway (2,2761 yards passing, 31 TDs, six interceptions) has the undefeated Bobcats primed for their first state title in school history.
But the Tigers' turnaround under second-year head coach Jeremy Hill (15-9) won't make it easy in the semifinals. Orem is led by star quarterback Copper Legas, who has thrown for 3,613 yards and 43 touchdowns and ran for 959 yards and four scores. They also count on wide receiver Puka Nacua (1,561 yards, 22 TDs), the next in a long line of Division I-bound Nacuas who has offers from BYU, Utah and UCLA, among others.
5A semifinals
Skyridge (11-1) vs. Corner Canyon (11-0)
Thursday, 11 a.m. at Rice-Eccles Stadium
Second-year Skyridge has brought its pass-happy attack controlled by Jayden Clemons (1,811 yards, 27 TDs) into its first state semifinal in school history against a team just two wins away from an undefeated season.
Led by Boise State-bound quarterback Zach Wilson (2,635 yards, 22 TDs), the Chargers averaged 41.3 yards per game, the second-most in 5A. But their defense may be even better, holding opponents to just 10.4 points—the best mark in the classification.
Springville (9-3) vs. Lehi (10-2)
Thursday, 2:30 p.m. at Rice-Eccles Stadium
A rematch greets the Red Devils and Pioneers in the other 5A semifinals, after Springville held off Lehi 18-15 in Week 4 of the regular season.
The Red Devils boast a thousand-yard passer in Ty Eriksson (1,307 yards, 11 TDs) and a thousand-yard rusher in Bradley Nicol (1,109 yards, 10 TDs) for a balanced attack and a defense anchored by Owen Rowe (107 tackles) that allows 21.9 points per game.
Lehi does its business best with Washington State commit Cammon Cooper (4,092 yards, 48 TDs) at quarterback, with BYU recruit Dallin Holker (1,485 yards, 17 TDs) pairing up nicely at tight end.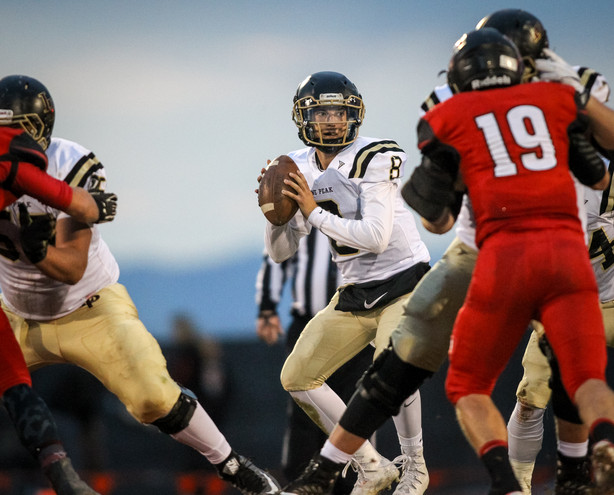 6A semifinals
Lone Peak (9-2) vs. East (10-1)
Friday, 11 a.m. at Rice-Eccles Stadium
The Leopards hope to avenge their lone in-state loss of the season, 48-17 to Bingham in Week 2. But Sione Molisi (170 carries, 1,689 yards, 21 TDs), Charlie Vincent (95 carries, 1,092 yards, 11 TDs) and Co. will need to get by Lone Peak first.
The balanced Knights attack is anchored by quarterback Brock Jones, a 59 percent passer for 3,158 yards, 33 touchdowns and 11 interceptions. He has seven receivers with triple-digit yardage, including two who have surpassed the 800-yard mark in Brigham Trowbirdge (899 yards, 10 TDs) and Cody Collins (880 yards, 15 TDs). Big fullback Masen Wake anchors the run game with 1,130 rushing yards (7.29 yards per carry) and six touchdowns.
Bingham (11-0) vs. Herriman (6-5)
Friday, 2:30 p.m. at Rice-Eccles Stadium
The undefeated Miners have rolled through the state's newest classification, led by a balanced offense of quarterback Ryan Wood (1,465 yards, 15 TDs, one interception), BYU-target running back Braedon Wissler (910 yards, 13 TDs) and standout receivers Brayden Cosper (735 yards, eight TDs) and Dax Milne (408 yards, seven TDs).
But if any team in 6A can keep Bingham in check, it may be the Mustangs, who have held opponents to 15.2 points per game, including a 21-3 win over Pleasant Grove in the 6A quarterfinals.
Offensively, Herriman is led by running back Maeakafa Leakehe, who has run for 541 yards and three touchdowns.
Related Stories
0 Pending Comments
Sorry, we are not accepting new comments on this story, but if you have more to contribute please email
newstip@ksl.com
Showing of 1 comments
Sorry, we are not accepting new comments on this story, but if you have more to contribute please email
newstip@ksl.com