SALT LAKE CITY — Right on schedule, much like 14 years ago, Bronco Mendenhall has rebuilt a downtrodden football program in stunningly quick fashion.
Nothing new to see here. Typical for this coach.
"I realized over time that my passion was in building," he said.
In Mendenhall's second season in Charlottesville, the Cavaliers have reached bowl eligibility for the first time in six years and only the second time since 2007. All this from a team that finished 2-10 last season, winning only once in eight Atlantic Coast Conference games and losing to FBS-level Richmond in Mendenhall's debut.
The 51-year-old has done this before, having rebuilt a BYU program that had suffered through three consecutive losing seasons. In his first season after being promoted from defensive coordinator, Mendenhall guided the Cougars to a bowl game and set the stage for winning at least 10 games for the next four seasons.
And now it looks like he's started down a similar path at Virginia, where he is reveling in the decision to head east. Football was much more encompassing at BYU, where fans tend to be consumed by the results well beyond necessary compared to Virginia.
The demands on Mendenhall's time and his visibility are far less than at BYU, which has created more balance in his life.
"The nature of the town is more diverse," he said. "There's just more things that people are interested. People's belief systems aren't contingent on the score of a football game, which is really different for me."
For many BYU fans, Mendenhall may have been a bit quirky and even somewhat awkward during public interactions, but no one can question his ability to coach college football. Praise often emanates from his current and former players.
"From what I have seen, the players love him," said Jerry Ratcliffe, sports columnist for the Daily Progress in Virginia. "They love his passion and football knowledge, leadership."
Much like Mendenhall's work in Provo, few saw this coming from a program that has had two winning seasons in the last 11 years. Virginia was picked last in the seven-team Coastal Division but now stands at 3-2 (6-3 overall) with three conference games remaining.
The team's most impressive performance came September in Idaho where the Cavaliers throttled Boise State 42-23. One week later, Boise State drilled BYU 24-7 in Provo.
Virginia got bowl eligible last week, rallying to beat favored Georgia Tech. On the other side of the country, the game had a familiar look.
"It was uncanny how last Saturday's comeback over highly favored Georgia Tech resembled some of BYU's wins that I've watched on TV, refusing to quit, slugging it out in a high-scoring game," Ratcliffe said. "I believe Bronco must have felt that, too, and touched on that briefly after the game."
Absolutely he did. In a radio interview with The Zone Sports Network, Mendenhall compared beating Georgia Tech to wins his first season against New Mexico (his first over a Division I team) and Wyoming, after which BYU became bowl eligible.
"The players literally just erupted," Mendenhall said of Virginia beating Georgia Tech, much like what happened after those two big wins at BYU. "It was so gratifying. Really the main reason I came to Virginia was those moments."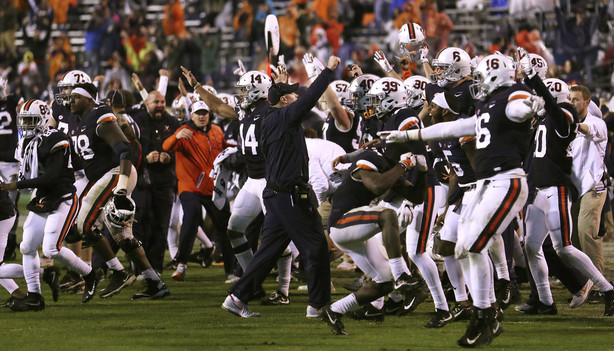 Ratcliffe's description of uncanny is right on the mark. Taking over for Gary Crowton at BYU, Mendenhall inherited a program that was in disarray, completely lacking discipline and accountability on the field along with becoming an embarrassment to the LDS church, BYU's sponsoring institution, for a series of incidents off the field.
Immediately, through a no-nonsense approach, he cleaned up the mess and turned the Cougars into a winner. Desperate for success, the players quickly bought in.
Mendenhall's same tactics have worked the second time around. The team's leadership – namely, linebacker Micah Kiser, safety Quin Blanding, quarterback Kurt Benkert and receivers Andre Levrone and Doni Dowling – followed the coach's lead.
"He convinced several talented returning seasons to buy into the culture that he developed at BYU," Ratcliffe said.
These players "had suffered through one losing season after another, and they were willing to do whatever it took to experience winning before they were through," Ratcliffe added. "All of those players command the respect of their teammates and set the tone in the offseason."
For a program that has been infested with apathy, Mendenhall is slowly winning over Virginia fans. To them, he is a fresh commodity, much like during his early years at BYU.
The same goes for the local media, even if Mendenhall does not fit the typical mode of a head coach.
"Granted, Bronco is different than what we have become accustomed to in the ACC, but who wouldn't be impressed with the job he has done," Ratcliffe said. "I wrote in the preseason I thought this team would win four or five games, maybe six, if they stayed healthy (and), got the breaks. They've been better than I thought.
"Personally, I like covering Bronco because he gives you good, thoughtful answers to questions and honest answers."
---
0 Pending Comments
Sorry, we are not accepting new comments on this story, but if you have more to contribute please email
newstip@ksl.com
Showing of 80 comments
Sorry, we are not accepting new comments on this story, but if you have more to contribute please email
newstip@ksl.com