SALT LAKE CITY — This is your brain. This is your brain and the science behind addiction. An endless loop of successes and failures.
Desperate to get clean, some battling addiction are turning to a new treatment.
Therapist Trish Henrie-Barrus, with Whole Health Recovery, has worked with patients with addiction for 25 years. She said amino acids, organic compounds that form proteins, can heal the brain and help patients recover long term.
"I have never seen anything that works this well," Henrie-Barrus said.
Rehab drugs alone are a bandage, she said, because they don't fix the brain. Amino acids repair dopamine transmitters.
We first met Trisha Farnworth in September.
"The last time I drank, I wish I could say it was longer, was two days ago," Farnworth said.
For the mother of five, her addiction started with opioids 16 years ago.
"I had something happen in my life that I wasn't expecting, that I wasn't ready for. Somebody offered me a pain pill to help edge the pain," Farnworth said.
Eventually, she turned to alcohol, and though it nearly destroyed her, she couldn't stop.
"It's scary to give up something that's been your constant companion," Farnworth said. "Even if it was a bad companion, it was still a companion — it was there."
Chad Bartholomew's addiction started with alcohol as a young adult and led to methamphetamines and opioids.
"I only went out to go to work, but I worked a graveyard, so nobody would ever see me there. I was done. I was just done, there was nothing I could do, you know it was just hopeless. That's what it felt like, hopeless," he said.
His mother, Toni Lopez, watched her little boy, all but disappear.
"It's hard to watch your child become somebody totally different," she said.
Can addiction be cured? Not always, according to experts with the National Institutes of Health. The chronic nature of the disease means "relapsing is likely."
"The reason you relapse is because your brain's still not healed," said Andrew Peterson, doctor of Osteopathic Medicine with Whole Health Recovery, adding that drugs increase the flow of dopamine. Take that away, and the brain can't produce those same amounts on its own, he said.
"Those neurotransmitters still weren't being produced appropriately, so you still had an addiction."
Amino acids are in the foods we eat. Given intravenously for 10 days, Peterson said amino acids improve the ability to make dopamine quickly.
"I've seen people who have been on heroin, opioids, for years and they have done this process and the cravings aren't there," Henrie-Barrus said.
The number of people who need treatment in Utah is staggering: 134,172, according to the Utah Division of Substance Abuse and Mental Health. The hope is that new research helps to stop destructive habits, like the top drugs of choice here: opioids, 29.2 percent, methamphetamines, 26.1 percent, and alcohol, 25.8 percent.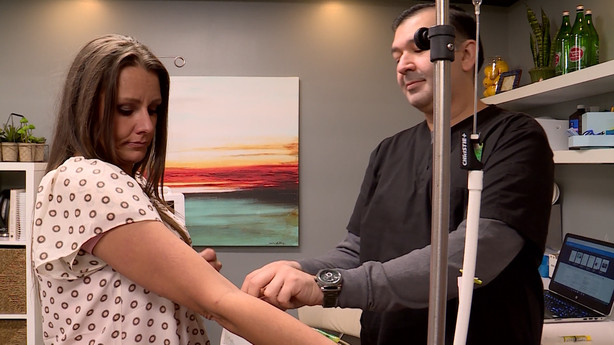 Early studies on amino acid therapy show success.
But it's expensive: between $1,000 to $2,000 a day. And like any treatment, it can be challenging in the beginning.
"My headaches, I have a really bad headache and my stomach is sick," Farnworth said.
On day two of amino acid therapy, she struggled. She got behavioral therapy and a "brain tap," guided medication using LED lights.
"It helps you reach a deeper state of relaxation and meditation," said Nicole Zeiner, certified amino acid recovery coach with Whole Health Medical.
Day 10 was revolutionary
"This four consecutive days in a row of not wanting a drink is the first time in a really, really long time," Farnworth said.
At first, amino acid treatment was rocky for Bartholomew, too.
"After the first day, it was no better," he said.
But on day three, a breakthrough.
"It was like somebody turn on all the switches and said, 'Here's Chad.' And I hadn't seen him for probably a decade," Bartholomew said.
He has been clean since last December. Lopez has her son back.
The treatment is followed by 90 days of psychological and behavioral therapy and a 12-month support program. Contact Whole Health Recovery at 801-691-2238 or find them at whrecovery.com for more information.
For more options, call the Substance Abuse and Mental Health Services Administration National Helpline at (800) 662-4357 or visit its website.


Photos
0 Pending Comments
Sorry, we are not accepting new comments on this story, but if you have more to contribute please email
newstip@ksl.com
Showing of 52 comments
Sorry, we are not accepting new comments on this story, but if you have more to contribute please email
newstip@ksl.com