PROVO — Alexander Mattison ran for 123 yards and two touchdowns, and Brett Rypien threw for 125 yards and a score as Boise State scored 24-unanswered points to beat BYU 24-7 for just the second time in series history in Provo.
The loss was the fifth-straight for the Cougars (1-5), who met their first five-game losing streak since 1970.
"I'm just proud of our guys that they trusted that process and went out there and actually did it tonight," Boise State coach Bryan Harsin said. "We ran the ball better. We had a turnover early in the game and we overcame that."
Tanner Mangum threw for 164 yards with two interceptions, and Ula Toluta'u led BYU with 38 rushing yards and a touchdown.
Here are three quick thoughts on another brutal loss and subpar offensive performance by the Cougars.
Mangum starts, but does not impress
In his first start since Sept. 9, Tanner Mangum took to the field with a tape cast over both ankles and the confidence of his teammates.
But he finished with just 164 passing yards and two interceptions — his fifth and sixth picks of the year to go with just two touchdowns.
An offense that has failed to produce a 200-yard passing game against 12-straight FBS opponents can't all be pinned on the quarterback, especially Mangum. But the junior takes plenty of the blame.
"I'm just frustrated. I hate losing, and obviously we've got a lot of work to do," Mangum said in the postgame interview room, his head sullenly resting on one hand. "It's tough. You work so hard, and you've got to be able to come out with a victory. We just didn't play well enough to earn that tonight, and I'm frustrated."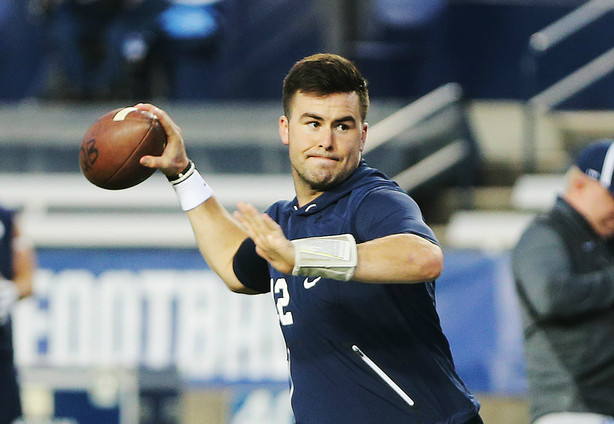 The loss isn't entirely on Mangum's shoulders, either. Even as the defense gave up 24 points, it felt like Mattison's second touchdown in the opening minute of the fourth quarter put the game away — even down by fewer than three touchdowns.
But not even a change of quarterback could light a fire on an offense that produced just 238 yards.
A good start worn down
Of course, Mangum's return for his first game since a 19-13 loss to No. 23 Utah was met with enthusiasm from most of the 59,753 Cougar fans at LaVell Edwards Stadium. He ran out of the tunnel for pregame warmups to a smattering of applause as fans trickled in — and even led a successful touchdown drive on his first series.
"I don't know what it was in the first quarter, but he was connecting on all of his throws and things were going really well," BYU head football coach Kalani Sitake said of Mangum. "As the game went along, he was just making bad reads and the interceptions didn't help.
"I'm not going to sugarcoat it: it's not good enough."
After Grant Jones' picked off Rypien on the Broncos' opening drive, Mangum completed his first four passes to set up Toluta'u's 3-yard touchdown romp with 7:08 left in the first quarter.
Few thought it would be the final time the Cougars found the end zone — but 24 unanswered points later, Sitake, Mangum and a handful of BYU players were trying to explain the same story to the media just after midnight in Provo.
"I think it's a broken record now. You can pretty much take the same thing from last week and say them again," Sitake said. "It's a frustrating loss, and we have some things we need to look at, review and evaluate. I'm looking forward to trying to fix it as soon as possible."
Goodbye, Critchlow's redshirt
Among the head-scratching calls that did not directly involve offensive plays was the coaches' insertion of true freshman quarterback Joe Critchlow for the final series of the game.
Critchlow, a recently returned LDS missionary from Tennessee, entered the game after BYU trailed 24-7 and attempted to rally an offensive spark to end the contest.
A redshirt candidate prior to his time on the field, Critchlow completed 2-of-4 passes for eight yards, and his lone drive ended in a turnover on downs with 39 seconds remaining.
With backup quarterback Beau Hoge on the sideline in street clothes and a walking boot, and few options besides redshirt candidates Kody Wilstead and Critchlow to lead the offense, Sitake defended the decision to use the freshman's first season of eligibility now.
"I think the point of (burning the) redshirt is just to find momentum and to try to get some positive yards," Sitake said. "Tanner was limping around, and we wanted to see what Joe could do. At that point, I wanted to get a spark going."
Photos
Related Stories
0 Pending Comments
Sorry, we are not accepting new comments on this story, but if you have more to contribute please email
newstip@ksl.com
Showing of 138 comments
Sorry, we are not accepting new comments on this story, but if you have more to contribute please email
newstip@ksl.com