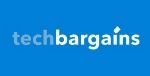 This story is sponsored by TechBargains.
Welcome to TechBargains' Weekly deals where they feature the best current deals on electronics, computers, TVs and more. Prices and stock are accurate at the time of posting, so act fast as these deals may not last.
This is Amazon's best deal to get you to try their music streaming service. It includes a month free and you get a bonus $10 credit you can use towards your second month. If you want ad-free streaming music, this is a must.
The Amazon Fire TV is one of the more popular streaming devices and with this deal, you are basically getting the Amazon Echo for only $10. The Amazon Echo retails for $50 and we've seen it go on sale for around $40 so you are getting a very excellent deal on two must-haves.
If you want a laptop for a low price and Windows and Microsoft Office is a must-have, then this Dell laptop is sure to please. It's powerful enough to do any task from web surfing, office productivity and more. At $300, it is one of the lowest prices we see.
You could spend over $300 on a cordless Dyson or just a hundred bucks on this very similarly designed vacuum. We love the cordless design for small cleanups or just vacuuming a room at a time. The convenience of cordless vacuum really makes it a fun experience to do your chores.
You never know when you'll need some emergency food, and this is a great price to get it at. These ready to eat meals have a 30-year shelf life. Reviewers like the taste and the fact they require no refrigeration.
New Amazon Devies
New Amazon Fire TV w/ 4K Ultra HD + Echo Dot (2nd Gen) for $79.99 (list price $119.98).
All-New 2nd Gen Amazon Echo Speaker w/ Dolby Audio (6 New Finishes) for $99.99 (use code: ECHO3PACK - Buy 3 Save $50).
Amazon Echo Spot w/ 2.5" Video Screen (Pre-Order) for $129.99.
New Amazon Echo Connect Land Line Bridge (Turns Echos into a Voice-Controlled Speakerphone) for $34.99 (list price $79.99).
All-New 2nd Gen Amazon Echo Dot for $49.99 (use code: DOT3PACK - $20 off when you buy 3).
Electronics & Components
Motorola Moto G 16GB Unlocked Smartphone (4th Gen) for $119.99 (list price $179.99).
Intel Core i7-7576u NUC Barebones Mini Desktop w/ 16GB Intel Optane & Intel Iris Plus Graphics 650 for $528.99.
Seagate Expansion 8TB USB 3.0 External Desktop Drive for $169.99 (list price $239.99).
Samsung QN65Q7F 65" 4K HDR Smart QLED HDTV w/ 1500nits Brightness, 120Hz Native, & HDR for $1799.99 (list price $2799).
Vizio M55-E0 M-Series 4K UltraHD LED Smart HDTV + $150 Dell Gift Card for $679.99 (list price $699.99).
Home & Miscellaneous
Ecovacs Deebot M80 Pro WiFi Robotic Vacuum Cleaner w/ Mop for $179.38 (use code: 2RY3KW8O - list price $229.99).
MyHeritage DNA Test Kit for $69 (list price $79).
Suaoki 20,000mAh Portable Generator & Power Source (Compatible w/ DC Input & Solar) for $169.99 (use code: 724BZYOE - list price $209.99).
Samsung PowerBot R7010 Robot Vacuum for $199.99 (list price $429).
Nursal 6 Interchangeable Nodes Deep Percussion Massager for $25.99 (use code: PJTBNAZW - list price $69.99).
Tytan Magnetic Learning Tile Building Set (100-Pieces) for $39.99 (use code: BUILDSET - list price $59.99).
Langria High-Back Racing Style Gaming Chair for $84.79 (use code: SXQYMU5B - list price $159.99).
Coleman Cooler Quad-Chair w/ Built-in Cooler for $19.61 (list price $30).
Halter 36.5" Height Adjustable Sit & Stand Desktop for $149.99 (use code: GCXI87LL - list price $255.99).
Serta Never Flat Queen Air Mattress w/ Pillow Top & Automatic Inflator/Deflator for $99.99 (list price $209.95).
Cordless Neck & Shoulder Shiatsu Massager for $39.99 (use code: Naipo399 - list price $69.99).
FrenchMay 4ft 4800-Lumens Linkable LED Utility Shop Light for $36.52 (use code: 846UZQVR - list price $89.99).
Meterk Portable Laser Engraver & USB Printer for $49.67 (use code: IWZ2MJ66 - list price $109.99).
Remington Shortcut Pro Self-Haircut System for $43.99 (list price $59.99).
Simdevanma 80W 8,000Lumen LED Bulb Set from $25.39 to $32 depending on size (use code: VDOFE3PJ - list price $39).
OxyLED 20-LED Wireless Motion Sensing Lights (for Cabinets, Closets & more) for $14.99 (use code: NXGXEGC8 - list price $19.99).
Eaton 15Amp 120V Aspire Z-Wave Wireless Single Pole Switch for $7.58 (list price $19.99).
KSL and TechBargains may earn affiliate commissions from the links on this page.
0 Pending Comments
Sorry, we are not accepting new comments on this story, but if you have more to contribute please email
newstip@ksl.com
Showing of 0 comments