MIDVALE — On most days, the TRAX station at Bingham Junction in Midvale is pretty crowded.
"Trains are very frequent at this crossing," said Vern Keeslar, state coordinator for Operation Lifesaver. "You can see pedestrians have been coming and just shooting out across the crossing."
However, pedestrians aren't the biggest problem here in Utah. It's situations where cars and trucks ignore the flashing lights and lowering arms at rail crossings.
To help kick off Rail Safety Week — a nationwide undertaking to increase awareness and safety around train tracks — the Utah Department of Transportation together with Utah Transit Authority on Monday released a video showing some of the close calls on Utah roads.
"Here the gates are down and a truck went through the lights," Keeslar said motioning to the video.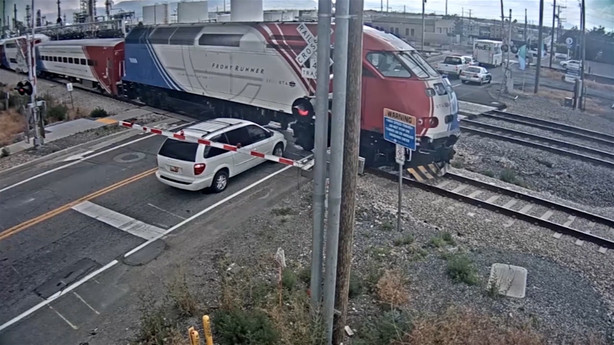 In 2016, there were nine crashes at rail crossings, one of which was fatal.
For Keeslar, that's nine crashes too many. He said the video from UDOT and UTA doesn't even begin to show how big the problem is.
"Oh, there is so much more than that," he said. "That's the sad part. It's just a very minor sampling of what we see and that's why it's such a problem."
That's why UDOT and UTA are teaming up with Operation Lifesaver and urging drivers and pedestrians to always expect a train and always wait for both the gates to come up and the lights to stop flashing before crossing the tracks.
"The one thing to remember is everyone can wait a minute, and that's all it takes from the time the lights start to flash," Keeslar said. "It's just one minute."
Rail Safety Week continues Tuesday across the country and in Utah with "Operation Clear Track." From 8 a.m until 11 a.m., police will be set up and looking for rail crossing offenders. They will also be rewarding those who follow the law.
Photos
Related Links
0 Pending Comments
Sorry, we are not accepting new comments on this story, but if you have more to contribute please email
newstip@ksl.com
Showing of 35 comments
Sorry, we are not accepting new comments on this story, but if you have more to contribute please email
newstip@ksl.com