SALT LAKE CITY — Playing the game of football is hard, especially in high school.
But for Zach Schreiter, that challenge is a dream.
The Highland High senior has overcome so much in his teenage life that the grind of high school football is nothing.
When Schreiter was 14, he was diagnosed with Hodgkin's lymphoma, or cancer found in the immune system and lymph nodes.
After four rounds of chemotherapy, he came out on top.
"It got me stronger mentally and physically," Schreiter said. "When I was going through treatments, I watched other kids go through it and I always felt bad because I couldn't watch someone go through this. It just strengthened me that if a kid younger than me can have this great attitude and go through it, I can do the same."
His battle with cancer, though, wasn't the first brush with adversity for the Rams stalwart.
Schreiter was born with achondroplasia, the most common form of short-limbed dwarfism. His arms and legs don't grow at a normal rate, and he was self-conscious about his appearance through grade school.
"I got bullied a lot in elementary school," he said. "And they would look at me weird and call me names. But I kept a good, positive attitude and just went on with it and didn't let them bother me."
Once again, his passion for football helped get Schreiter through hard times.
"I told my dad I want to play football," he said. "I really wanted to play football."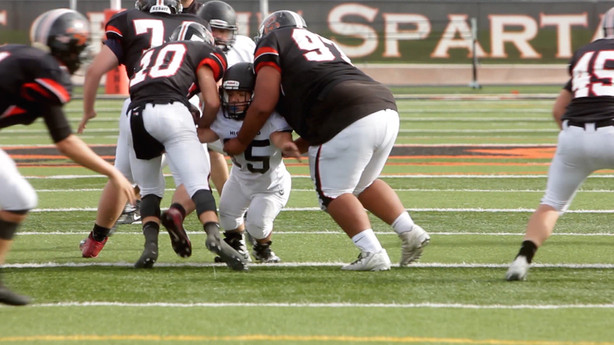 A chance encounter with Highland coach Brody Benson at parent-teacher conferences during a weightlifting class was just the opportunity he needed.
"I talked to him about being a manager for us, and he looked at me with this kind of look," Benson recalled. "He said, 'Well, how about I play?' Without hesitation, I said, 'Of course.'"
At 4-foot-3 and 120 pounds, Schreiter is probably the smallest defensive tackle in the state.
But he doesn't let physical limitations get him down, either.
"We're the front line for defense," he said. "We set the tone and it's so much fun getting a tackle against somebody."
The Rams don't offer Schreiter any special treatment. No handouts.
Not that he would want them if they did.
"The biggest thing that Zach wants is to be treated like everyone else," Benson said. "He'll call guys out if they're sistering on the line of scrimmage, taking it easy.
"He'll call them out and he doesn't shy away from that, which I think is awesome."
Since that fateful day in Benson's Highland High weight training class, Schreiter has gotten bigger, stronger and faster.
But the impact he has on his teammates is harder to measure.
"He's a fighter, man. We have to fight just like he does," teammate Hunter Lotulelei said. "We view him as a silent leader. He leads by example. He comes out with a good attitude, comes out ready to learn and work and some of us lack of that sometimes. When we just look at his story it makes us have a better day and pick it up in practice."
His coach agreed.
"Zach is an inspiration to himself to this program and to me as a coach," Benson said. "I'd love to have someone like Zach on my team every year."
Now a senior and a team leader, Schreiter is having the time of his life, enjoying every minute of an opportunity he wasn't sure he would get — twice.
"I've found a lot of joy," he said. "I wouldn't be doing it if I didn't like it. Words can't describe it. It's been awesome. That's all I can say: it's awesome.​"
"Yeah, it's been nice trying to prove people wrong, saying size doesn't mean everything."
Photos
Related Stories
0 Pending Comments
Sorry, we are not accepting new comments on this story, but if you have more to contribute please email
newstip@ksl.com
Showing of 14 comments
Sorry, we are not accepting new comments on this story, but if you have more to contribute please email
newstip@ksl.com