PROVO — There's not a lot of familiarity between the BYU football program and 10th-ranked Wisconsin.
The two teams will meet for just the third time in series history Saturday at 1:30 p.m. MDT on ABC and KSL Newsradio, and neither head coach has faced the other in competition.
It's only been a few years since the last meeting in 2013, but the two stars from that game are currently in the NFL: BYU's Taysom Hill with New Orleans and the Badgers' Melvin Gordon with Los Angeles.
But if the Cougars (1-2) need a glimpse into the opposing team room, they have one player on the roster who is less than two years removed from the Badgers (2-0).
"This week, I haven't done any scout work, but if they need me then I am willing to go there," said running back Austin Kafentzis, who debuted on the depth chart Monday next to KJ Hall and Trey Dye after playing quarterback and slot receiver in fall camp.
Kafentzis' role a week ago was simulating Utah quarterback Tyler Huntley, a passer who can accomplish as much with his legs in a football game. That's not a skill set that emulates Wisconsin passer Alex Hornibrook, who has completed 61 percent of his throws for 445 yards, four touchdowns and one interception in home wins over Utah State and Florida Atlantic.
And Hornibrook has less reason to run when paired alongside standout freshman Jonathan Taylor, a tailback who has rushed for 310 yards and four scores in 2017.
But even if he can't simulate the Badgers, Kafentzis can give a little insight into the Badgers' team meetings; he enrolled early at UW-Madison after a record-setting career at Jordan High, and he still keeps in touch with a lot of defensive players to this day.
"I started out there, and I get to see a lot of the guys I became close friends with," Kafentzis said. "I still talk about meeting up with them during spring break. It'll be fun to play against some close friends — but we also need to go out and make a statement."
Complicating the Cougars' attempted statement is figuring out an offense that is scoring just 11 points per game — one of the lowest outputs in the Football Bowl Subdivision. With Tanner Mangum in jeopardy of missing Saturday's game with an apparent ankle injury, the Cougars will also look for that spark from backup quarterback Beau Hoge.
BYU coaches have not confirmed Mangum's absence, citing a policy that they do not comment on injuries unless they are season-ending. But the junior from Eagle, Idaho, has been spotted wearing a walking boot outside of practice, and exited the 19-13 loss to No. 23 Utah with a noticeable limp.
Another spark, then, could come from another former Wisconsin signee — running back Ula Toluta'u, who emerged as a bright spot in the Cougars' loss to Utah last week.
"Ula came in and provided a spark, and we got a glimpse of what we thought we had," BYU offensive coordinator Ty Detmer said. "Now that he is feeling 100 percent, we can mix him in there more. It's the same number of guys, but you may dial in more and give certain guys a few more carries based on what they can do."
The 2013 Deseret News Mr. Football signed with the Badgers and former coach Gary Andersen prior to serving a two-year mission for the LDS Church in Bakersfield, California.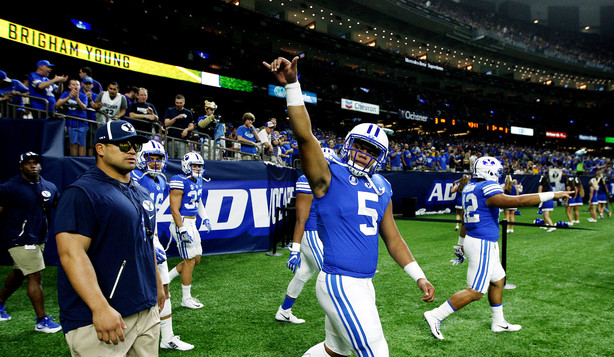 When he returned, Andersen had moved to Oregon State, and Wisconsin alum Paul Chryst had taken over in Madison — with little knowledge or recruiting interest in Toluta'u.
The 6-foot-1, 255-pound graduate of East High asked for a release from his scholarship, and his request was readily granted with no hard feelings on either side. After a team-high 25 yards on five carries with his first career touchdown last week against the Utes, Toluta'u is gaining confidence befitting the Cougars' lead ball carrier.
"I just believe in my brothers," Toluta'u said. "There's a reason I committed here, and I'm here. I'm confident where I am at, and we're going to get to work."
Toluta'u admitted that it's ironic his first collegiate start will likely come against the team he once had sights on playing for — even if he never enrolled there, and is trying to pass it off as business-as-usual.
"It's special, because I committed there," Toluta'u said. "But you have to treat it like any other week.
"It's a big, physical defense and we're going to be up for it."
Across the Sidelines:
Related Stories
0 Pending Comments
Sorry, we are not accepting new comments on this story, but if you have more to contribute please email
newstip@ksl.com
Showing of 43 comments
Sorry, we are not accepting new comments on this story, but if you have more to contribute please email
newstip@ksl.com