OREM — Ronnie Price still remembers the days of sneaking into the old David O. McKay Center so he could get up shots after practice with the Utah Valley State College men's basketball team.
The extra shots were with it for the journeyman hoopster whose decade-long stay in the NBA has taken him to Sacramento, Utah, Phoenix and Orlando, among other stops.
But the sneaking around part? That will never have to happen again.
Utah Valley cut the ribbon on the team's new state-of-the-art basketball practice facility Wednesday, celebrating the 14,500-square-foot center with a round of cutting down the nets by the building's top contributors.
"It's a top-notch facility," said Price, a UVU Hall of Fame guard. "I would've probably missed a lot of class to be in here all day, every day. There would've been no excuse to not improve as a basketball player.
"I probably would've had a sleeping bag in a corner in one of these rooms, and never left."
The $4.4 million practice facility on which ground was broken last June includes a lead donation by Nuvi chairman Keith Nellesen, a state-of-the-art weight training center, 24-hour operations and offices for the men's and women's basketball staffs.
It even has windows, women's basketball coach Cathy Nixon is quick to point out.
"I was here for 26 years without a window in my office," said Nixon, with only a hint of jest in her voice. "The birds fly by, the sun comes up — it's just incredible."
As supporters of the Wolverines cheered on university President Matthew Holland, Nellesen, Nixon and men's basketball coach Mark Pope, a couple of basketball recruits stood in the crowd.
Nixon brought along two recruits that she mentioned — not by name, per NCAA regulations — and said the new building is already attracting a new level of player to the Western Athletic Conference school in Orem.
Ditto for Pope.
"It's important to the type of guys that we try to recruit. The type of players we recruit will live in the gym; they want to be here all the time," said Pope, the former BYU assistant who begins his third season with the Wolverines Nov. 10 at Kentucky. "We can't afford to just bring in talented guys who don't want to be in the gym. I'll even take a guy who is a little less talented who is dying to be in the gym all the time. That's why this building is so important.
"We're ballers — 24/7, we want to be in the gym. This is a big part of the process."
The process took Utah Valley from the ranks of junior college in 2003, through the NCAA Division I transitional period until 2009 and into the WAC in 2013 as a Division I non-football conference.
Since Pope arrived in 2015, the Wolverines went to their first postseason tournament and advanced to the semifinals of the College Basketball Invitational. They picked up historic victories over New Mexico State and BYU and capped the second-largest comeback in NCAA history with an 88-85 win at Denver on Nov. 23, 2016.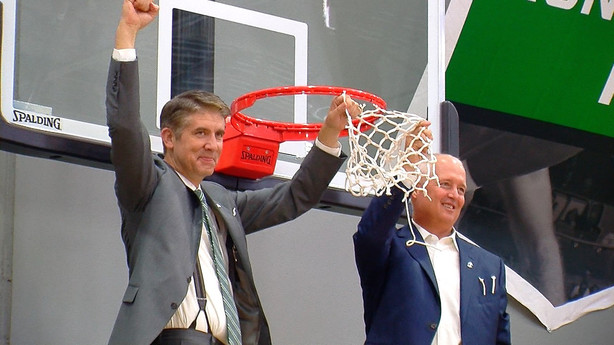 "It's a flagship building in our athletic department, at our university, and the ramifications are widespread in terms of what this building does for us," Pope said. "Now we've got to prove it."
The program has already come a long way from Price's days in a UVSC uniform, finding city park rims and practicing at the local gym in the offseason while being evicted from the Wolverines' home arena for the circus, motocross races and local high school graduations, among other events.
"It's something new, and it's definitely an improvement from where we practiced and what we did when I was here," Price said. "I'm happy for the guys, that they have access to a gym that they can claim as theirs."
Photos
Related Stories
0 Pending Comments
Sorry, we are not accepting new comments on this story, but if you have more to contribute please email
newstip@ksl.com
Showing of 0 comments