SALT LAKE CITY — With Media Day around the corner (the unofficial kickoff for the Jazz season is scheduled for Sept. 25), the entire roster, new and old, will pose for pictures in their uniforms. The only question: what exactly are they going to wear?
In what shouldn't be a surprise in the digital world, the new and controversial Jazz third uniform was leaked Wednesday thanks to screenshots from the upcoming NBA2K18. KSL.com previously reported one Jazz alternate would be yellow this season, and now we get to see it, thanks to SportsLogos.net: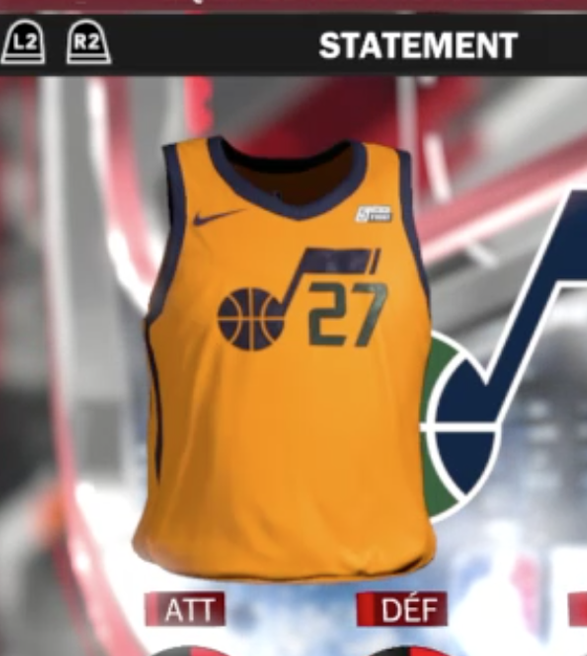 The Jazz are not allowed to release official mock-ups of the jersey yet, thanks to NBA policy. This look is the third of four different jerseys the Jazz will be wearing during the 2017-18 NBA season.
Front office changes
The Jazz formally announced three front office changes, though two of them had already been largely reported.
David Morway and Justin Zanik have been named assistant general managers. Both have general manager experience on their resume: Morway led the Indiana Pacers for four seasons, and Zanik led the Milwaukee Bucks on an interim basis after the departure of John Hammond.
Meanwhile, Stephen Schwartz, who was previously a basketball operations assistant, has now been promoted to director of basketball operations.
In an interview in June, Jazz general manager Dennis Lindsey gave Schwartz credit for the idea of trading the No. 30 and No. 42 pick in the draft for No. 28 in order to select Tony Bradley. That skipped the Jazz past San Antonio, who were rumored to be interested in selecting Bradley at No. 29. It seems now that Schwartz will have a larger role in the front office.
Training camp signing
The Jazz have signed Naz Mitrou-Long to a training camp deal, KSL.com can confirm. The Salt Lake Tribune was the first to report the deal.
Long averaged 9.5 points and 3.6 rebounds in 22.8 minutes per game in summer league action for Indiana and Sacramento after a five-year collegiate career at Iowa State. Mitrou-Long averaged 15 points per game as a senior, shooting the majority of his shots from beyond the 3-point line. There, he shot 38.4 percent from the college line.
It's official! I am truly blessed & ready to take on this next chapter in my life. Thank you, @utahjazz for the opportunity. #TakeNote pic.twitter.com/yzfxhufQKy

— Nazareth Mitrou-Long (@NazzyJML) September 13, 2017
The most likely outcome is that Long receives some guaranteed money (but not more than $50K) from the Jazz as a result of going to training camp, but then is waived and assigned to the SLC Stars, the Jazz's minor league affiliate.
0 Pending Comments
Sorry, we are not accepting new comments on this story, but if you have more to contribute please email
newstip@ksl.com
Showing of 4 comments
Sorry, we are not accepting new comments on this story, but if you have more to contribute please email
newstip@ksl.com