LAKE CHARLES, La. — Newborn photo shoots often feature props like baskets and blankets, but rarely do they include metal rescue boats and life vests.
But that's exactly what surrounded little Hope Chimeno as she posed — or slept — through her first big shoot last week.
While the setting might seem a bit odd, it was anything but for Hope's family. When raging floodwaters brought on by Hurricane Harvey wreaked havoc on their hometown of Orange, Texas, two brothers — Cris and Clint Sanford — pulled 10-day-old Hope, her two older siblings and her parents onto that very boat and brought them safely to Louisiana.
While helping the Chimenos settle in, Cris's wife Katy asked Hope's mother Emily if they'd had any newborn photos taken of their daughter before the storm. When Emily said no, Katy Stanford immediately turned to her friend — photographer Noelle Mills.
"I immediately said yes and told them I would donate the session," Mills told KSL.
With the help of the Sanford brothers, Mills was able to secure the perfect props for the shoot.
"I have done many newborn sessions before, but this one was extra special, especially incorporating the rescue," she said. "Hope was a joy to work with. Though we were dealing with a serious matter, it was very light and upbeat the entire time."
Mills said that while the Chimeno family was lucky — theirs was one of the only homes in their community to escape major damage, their story is one that will stick with her.
"They showed enormous courage, strength and kindness in such a trying time," she said. "They were so gracious during our time together."
Mills's photos — in which Hope models a onesie that reads "I Survived Hurricane Harvey," have gone viral. The images were shared on the Love What Matters Facebook page on Sept. 5 and as of Tuesday had garnered more than 31,000 likes and 3,400 shares.
"The joys of a newborn blossoming out of such a huge tragedy ... that baby will become very special growing up," wrote one commenter.
"Hope floats," wrote another. "Bless her."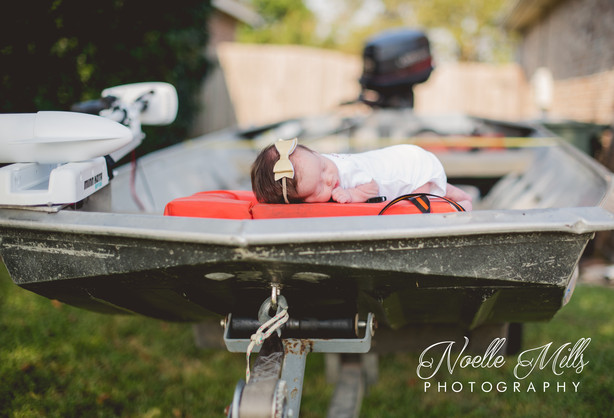 Mills is still a bit stunned at the attention the photos have received.
"I had no idea they would take off like they did," she told KSL. "I knew they would resonate, but I never dreamed to this level."
It's an experience Mills said she won't soon forget.
"I will remember every step of it. Meeting this great family and then watching the world react alongside them," she said.
In the midst of so much heartbreak, destruction and devastation — a little ray of Hope. Brought about by an aptly named infant and a photographer who wanted to do what she could to help.
"I think it's important to share that you are never too busy to give back," Mills said. "Giving doesn't always have to be monetary. Give of your gifts, give of your time … just give!"
Photos
0 Pending Comments
Sorry, we are not accepting new comments on this story, but if you have more to contribute please email
newstip@ksl.com
Showing of 9 comments
Sorry, we are not accepting new comments on this story, but if you have more to contribute please email
newstip@ksl.com