SALT LAKE CITY — SAGE scores were slightly down, but the number of students opting out of the tests continues to increase, up 216 percent since the start of the testing program in 2014.
Statewide, scores on the end-of-level Student Assessment of Growth and Excellence tests dropped slightly in 2017, which was the first time in four years that the scores fell, according to data released Monday by the State Board of Education.
Overall, language arts proficiency rates decreased from 44.1 percent in 2016 to 43.6 percent in 2017. Meanwhile, mathematics proficiency rates decreased from 46.5 percent to 45.7 percent; and science proficiency rates fell from 48.7 percent to 47.5 percent. Overall scores are still higher than in 2014, the data shows.
"We will be looking deeper into the numbers to understand reasons behind the slight decline," state Superintendent of Public Instruction Sydnee Dickson said in a prepared statement.
"One year of decrease does not annul three years of growth, particularly when we also have 2017 data from ACT that shows an increase in Utah high school student scores. The Utah State Board of Education will continue to focus on improving academic achievement for each student," Dickson said.
Student data from 2017 SAGE and all previous years are available on the State Board of Education website.
Numbers of students opting out of the test continued to increase, more than tripling since 2014, the first year of the testing program. In 2017, 69,685 tests in Utah were opted out compared to 2 percent, or 22,077 tests, in 2014. Utah law allows parents to opt out of the testing.
Some of the highest rates of opt-out occurred at online schools. At Utah Online School, for grades K-8 based Washington School District, 93.4 percent opted out. In its offerings for grades 7-12, 85.2 percent opted out.
Online high schools in Davis and Uintah school districts had opt-out percentages of 41.8 and 50.5, respectively. Alpine District's online school had a 38.9 percent opt-out rate.
At traditional high schools, opt-out rates were as high as 46.4 percent at Park City High School and 30.3 at Olympus High School in the Granite School District. At Skyline High School, 20.6 percent opted out.
At Copper Hills High School in the Jordan School District, 24.6 percent opted out, a 10 percent increase over the previous year.
In Rich School District, 30 percent opted out at North Rich School, 10 percent at Rich High and 12 percent at Rich Middle School.
Mike Kelley, spokesman for the Utah Education Association, said he believes growing rates of students opting out of testing are linked to "test fatigue and overtesting."
"There's so many things that happen in schools and the progress students make that can't be measured by these standardized tests. The more we test, the more we have parents opting out and it takes time for learning away from teachers," he said.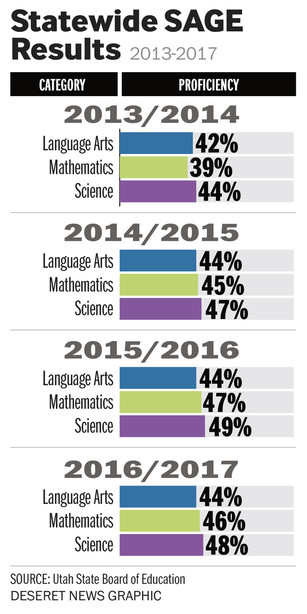 One bright spot was increased scores in all subjects among students with limited-English proficiency and students with disabilities.
Specifically, there were improvements in language arts scores for students who are Hispanic and of multiple races, as well as mathematics scores among students who identify with multiple races.
Utah students take SAGE in language arts in grades 3-11, in math in grades 3–8 plus students who take Secondary Math I, II, and III, and in science in grades 4–8 and in Earth science, biology, chemistry and physics.
The State School Board will use data from student scores to calculate school grading reports to be released later this month.
Test scores from charter schools were a mixed bag, with some schools posting some of the top percentages statewide to others that scored in single digits and low teens in certain subject areas.
Canyons School District's proficiency in language arts, math and sciences exceeded state averages across the board.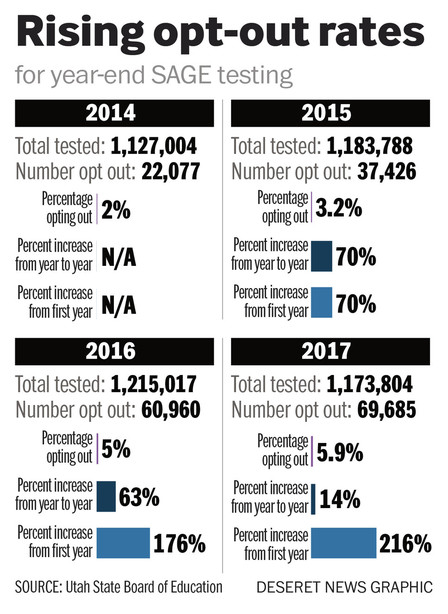 "We continue to reap the dividends of major initiative undertaken in the early years of district," said Hal Sanderson, Canyons research and assessment director.
"The data reflect the quality and hard work of our teachers, as well as the district's focus on research-based instructional practices and the high standards that our board of education has embraced."
The Cache County School District had the highest proficiency as a school district, with 55 percent of its students performing proficiently in language arts, and 60 percent proficient in both math and science. While the highest, the percentages were lower than a year ago.
The San Juan County School District, which historically has been the lowest-performing district on SAGE, had improved scores in math and science, 33 percent and 31 percent, respectively, but a slight drop in language arts proficiency at 26 percent.
Utah County Academy of Science, which has consistently scored highest among charter schools on SAGE, posted 79 percent proficiency in English, 73 percent in math and 79 percent in science.
Guadalupe School in Salt Lake was the lowest performing, with 11 percent proficient in English, 7 percent in math and 6 percent in science. School officials did not return a telephone call seeking comment.
Mandated by the Utah Legislature, SAGE is administered by computer and is intended to test student proficiency as it relates to the Utah Core.
Earlier this year, SAGE testing for ninth- and 10th-graders was eliminated from the state school accountability plan, largely due to rising rates of students who opt out of the standardized tests.
The tests will eventually be replaced by ACT brand tests, which the sponsor of SB220, state Sen. Ann Millner, R-Ogden, said should result in higher rates of participation because more students will care about the results.
Earlier this summer, the State School Board reluctantly agreed to administer SAGE tests one more year because state education officials had determined that the ACT brand tests for grades nine and 10 conflicted with standards and Utah's school accountability program. To replace SAGE with another assessment, the state needs to comply with procurement laws that require competitive bidding.

Email: marjorie@deseretnews.com
Photos
0 Pending Comments
Sorry, we are not accepting new comments on this story, but if you have more to contribute please email
newstip@ksl.com
Showing of 41 comments
Sorry, we are not accepting new comments on this story, but if you have more to contribute please email
newstip@ksl.com